Joined

Apr 21, 2013
Messages

33
Location
I've been cruising around the site for a while looking at everyone's installs that are all just great! There's only one problem… My wife doesn't want a rolling "shack" with an "antenna farm" out back or up top...
I got away with it on my 2007 JK Wrangler mostly because the antennas were there before she was! I posted some pics of the semi-custom 3 antenna mount on the tailgate I made in another thread, but I never got around to installing all the radios I wanted to.
In July I upgraded from my JK to a 2014 GMC Sierra 1500. Doing a lot more commuting and a lot less off-roading these days. Just made sense from a MPG stand point (yes, I went up between 3-3.5 MPG buying a V8 pickup). It's also a lot quieter and more comfortable ride while still letting me have a truck when I need it for towing and hauling.
Anyways, I've been trying to find a radio mounting solution that was low-profile enough to keep the wife happy while still getting 2-3 radios installed. Looking at everyone's awesome set-ups here, and the commercially available consoles, I couldn't find anything that felt right.
The Sierra is a SLE trim level, which means I have the bench seat up front. I figured it would fit any number of the major brand name consoles (Havis, Jotto, Troy, etc) but it won't! So this weekend I set out to make my own solution.
I started with a CAD like design program to determine what the smallest console I could make to fit my first two radios, a Cobra 18 WX ST II and a Vertex VX-2200 UHF. This was a combination of measuring the radios, measuring the cab in the truck, making cardboard templates, and making it all fit. Here's what I came up with:
These are just renderings I made in a design program to make sure it would even work… This one shows the internal clearances for cables/wiring: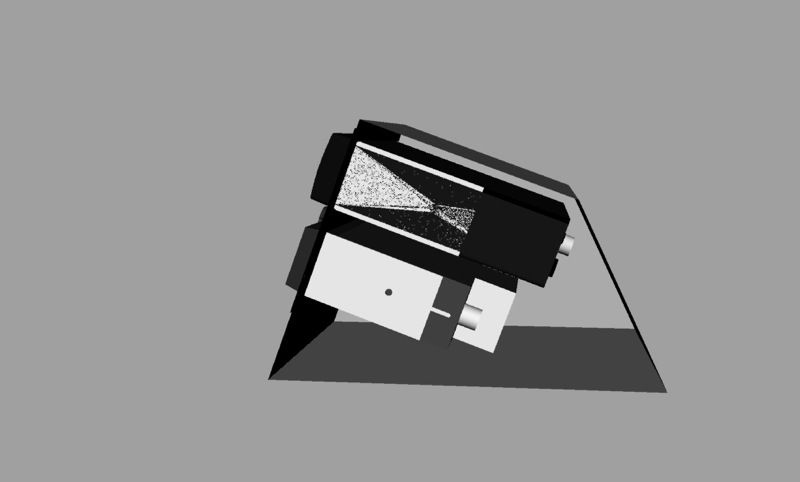 It's going to be a 1/2" square tube frame (shown below) with a 22 gauge sheet metal skin. I'm used to working with the square tubing, but the sheet metal will be a new experience for me…
Here are the dimensions I worked up… The radios will be angled about 20 degrees, which is plenty for me to see them while driving.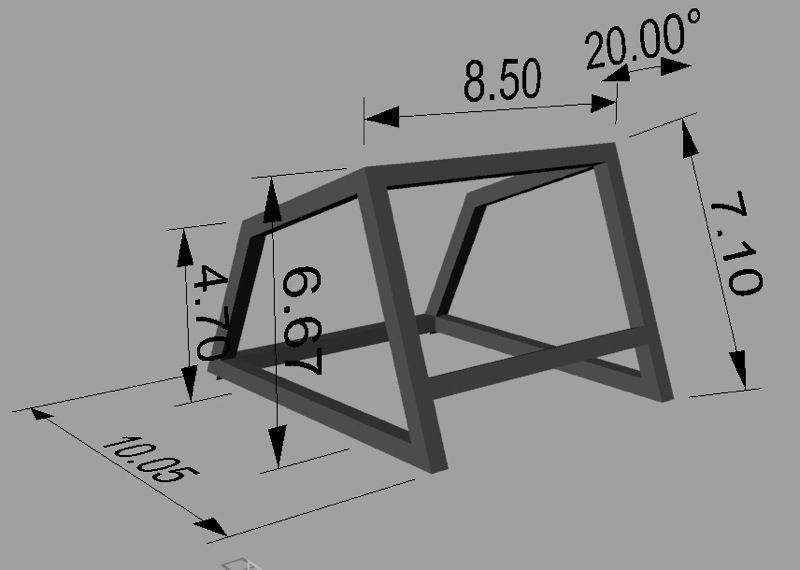 Of course nothing ever goes according to the design engineer's plan, even when he's the one fabricating it. But this is my starting point. I started the frame last night, and maybe I'll get it finished by next week… Probably not, maybe more like 2-3 weeks.
Another goal here is to make it adaptable in the future, but not quite as easily as the commercial consoles. So the entire front face will be removable in case I decide to change out radio types in the future. The Cobra 18 has the same (almost) dimensions as a Uniden 996XT, which I swap out in the future. If not, I could always mount the remote head below the VX-2200...
Last edited: