Joined

Aug 12, 2008
Messages

90
Location
Hi there,
I have recently got this great Makita radio (just a broadcast receiver FM + MW) which many other chaps I meet at work every day, have been using for a while now. The only thing I found a little limitting was the need of use (almost any) Makita powertool battery or silly little power pack to make this cute little beast to sing. Soon I have realised that it was actually designed to be modified to it's perfection, going through few simple steps. These are: cutting off the battery holder at the back of the unit and installing 12V/7Ah sealed lead-acid battery, small charger, transformer, power cable outlet and a battery switch.
The radio itself has outstanding sound and surprisingly powerful output!
There are two AUX inputs for external audio sources, sleep timer, alarm clock and slot for two AA batteries, in order to keep the clock when the main battery is not fitted (in this case, when the main battery is switched off)
Radio before modification:
Modifications;
-battery switch on front panel (red led toggle switch)
-mains power connector (the lcd is blue, so blue led as a mains indicator)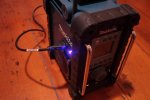 -big battery and transformer
-just add wires
Now it is what I call good portable stereo/amp for any occasion!
more photos
here
My apology for bad quality photos due to bad light and me being lazy.
I can shoot some more if you ask