Member
Premium Subscriber
Joined

Jun 24, 2012
Messages

113
Location
I've been working on my mobile set up on and off for about a year or so now.
The current load out is:
Motorola XTVA Used for an XTS 5000 Model 3 UHF (P25/analog) portable when mobile
Motorola Astro Spectra VHF (P25/Analog)
Motorola 1550 LS+ CDM for 1.25m (220 Analog)
Motorola GTX for 900 Analog
Icom IC-2200H for VHF APRS operation
Bearcat BC 780XLT (screen broken but serial controlled via PC) for general analog monitoring
2 Nooelec SDRs for P25 state system tracking using SDRTrunk (probably going to try DSD Plus Fast lane instead)
1 Nooelec Smartee with always on bias-t and two cascaded LNAs to a modified GPS NMO antenna (for L band Inmarsat and Iridium coverage)
RCA Cambio 11' Windows 10 tablet for control of most hardware
an In-dash Android headunit for ADS-B and other uses
A mount and some military poles for a TJ5A HF rig for portable stationary HF work.
I'm working on installing a modified Pyramid repeater as well with a switch to run crossband UHF to VHF 220 or 900 but haven't build the cables for that yet.
I've also been considering installing a modified Motorola low band CDM for 6m FM use but... I'm running out of space lol.
In addition I am working on adding a 4 SDR co-herent receiver for RDF work.
The SDR gear makes it easy to analyze and decode and otherwise work with various analog and digital signals. I have it set up for P25/DMR deocding, ADS-B aircraft tracking, ATCS will be added soon, just a matter of software, I'll add in another post my SDR controller used for interfacing with SDR# on the tablet as well.
I think that's it, enjoy the photos.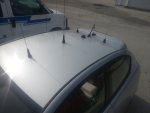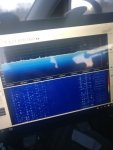 ^^ -iridium