I am selling my privately owned Unication E3 vhf pager ( black & Red ). The Pager is in very nice condition. Only used in my home as a receiver. This pager is programmable via a desktop using the Unication Programmer *not included* or via the pager itself. You can select the frequency, Capcode, and baud rate manually. so there are 2 options for programming. I did how ever use the programmer via the computer.
legal jargon sorry but it has to be said. I have been burned before by trusting people.
1. All electronics are sold as is
2. Sales are final
3. No returns
4. Shipping to the 48 continental US States only ( $12 Paid by buyer )
5. Paypal or venmo only for payment.
I will ship items with signature on arrival and will provide a tracking number.
Buyer responsible for programming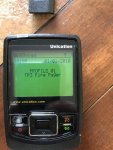 Items included in the sale:
- 1 Unication E3 pager ( VHF Band split B 148-161 mhz)
- 2 unication pager holsters ( 1 still in plastic
- 1 unication desktop charger
- 1 Unication supplied Tenergy Premium recommended recharagle battery. 2500 mAh NI-MH