MINT condition Whistler TRX-2 Scanner Receiver. Includes all accessories as new (set up and monitored for awhile, put back in the box when I got my Icom 8600):
In the box: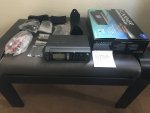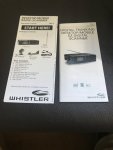 Digital Desktop Scanner
Antenna
AC Adapter
USB Cable
Remote Head Mounting Bracket
Hardwire Kit
LAN Cable
DC Cable w/Fuse
SD Card
Storage Pouch
User Guide
Quick Start Guide
Specs
Unit Dimensions 1.75 in. H x 7.12 in. W x 5.31 in. L
Unit Weight 2.09 lbs.
Multi-system adaptive digital trunking scanner with Motorola P25 Phase I & II, X2-TDMA, and DMR. Capable of monitoring the following unencrypted channels/systems: Conventional DMR (Entered as a DMR trunked system, NXDN™, Hytera XPT, MotoTRBO™ Capacity Plus, MotoTRBO™ Connect Plus, and MotoTRBO™ Linked Cap Plus systems and NXDN.
Custom Programming in addition to factory: Lane, Douglas, Linn, Benton Counties
$320 shipped, double boxed.
Paypal:
brynerayh@gmail.com