Founder and CEO
Staff member
Joined

Dec 9, 2000
Messages

10,844
Location
Hey folks, some quick updates on Broadcastify Calls.
As of today we have well over 130 Broadcastify Calls Nodes online. I'm really excited about the growth of this platform. At it's peak during the day, we're receiving about 1,300 calls a minute (21 calls a second) into the system, so we've definitely launched and grown a monster in the past few months.
I'll just data dump a few updates for you:
1) Computer that broadcast calls to Broadcastify Calls are now called "Nodes" vs "Systems"
2) I've completely updated the
Calls Coverage Browser
to allow you to browse coverage of service types, but also ingest "nodes" that are taking in calls.
3) If you can now add a talkgroup or frequency to a
playlist
directly from the coverage browser. by clicking on the talkgroup/frequency and seeing the list of options available.
4) You can view all talkgroups we've collected for a trunked system by clicking the a Trunked System Name in the coverage browser.
5) You can now add to playlists and view talkgroup details from that "all talkgroups" page for a system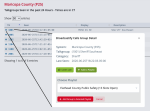 6) In the Node Coverage Browser, you can view nodes and their status by County Location and by Trunked System. You can also click on the node for more info about that node. Red indicates the node is down. Orange indicates the node is delayed sending data. Green means it is online.
7) An nice new Submit Calls Application interface for folks that are ready to get started sending calls to the system
Broadcastify Calls Application
There are lots more updates and changes rolled out - but those are some of the big ones.
What's next?
1) The live pages for nodes, talkgroups, frequencies, and playlists are going to be rewritten for better functionality and viewing. They are kind of janky right now
2) More playlists updates, including working to get past the 20 member limit per playlist
3)
The ability to create legacy Broadcastify Feeds from Calls Playlists
4) More stats, graphs, etc
5) More admin tools for calls providers to manage their systems
6) Prepackaged software for Raspberry Pi and smaller computers so ingest providers can quickly get started.
So that's about it. The calls platform is growing rapidly, and we are excited to grow this and expand the offerings even further.
Thanks!