I was just wondering something. I bought a BCT15X directly from Uniden last week 9/14/2011. And looking at all the pictures on their web site, on the side of the box it was shipped in and everywhere else like even Marks scanner manual, my display is different. I was just wondering if I was shipped an old or new style or what. It is firmware version 1.03.00. Is the display part of the firmware?
Marks scanner Easy to read Manual mentions...
Disp. Unit ID:
(

Requires firmware 1.04 or newer

). Allows you see the unit ID of the radio currently transmitting on Motorola, EDACS, and APCO P25 systems.
My v1.03.00 does display the unit ID. Is that a typo? Uniden list v1.03 as the latest version.
Below are the pics of my scanner and the ones uniden shows. Notice the time of day on the upper right and the scan direction arrow. My arrow is on the right. Just wondering if everyone's is the same as mine.
Uniden's Picture: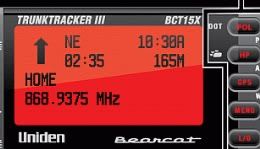 My Screen: