Joined

Jun 30, 2006
Messages

12,554
If this post comes across as a sales pitch for MyAntennas brand common mode chokes, it kind of is my personal stamp of approval. I just came across an ad from Palomar Engineers for their new "MAXI-CHOKER" coax common mode line isolator in tubular form with "propitiatory multi-mix, multi-core, multi-turn technology". It advertises between 500 ohms and 5,000 ohms of choking impedance across the 160-6m amateur bands and up to 38dB of isolation. Bravo, good work Bob.
A few years ago I was chatting with Bob from Palomar Engineers at a friends hamster party and brought up the MyAntennas tubular common mode chokes and how much better specs they had than Palomar Engineers and that Bob otta take a look at the competition to see what they are doing. I knew MyAntennas was using some sort of multiple core, multiple mix, multiple winding approach to cover the entire HF band with terrific specs and Bob only had two stacked core, same material chokes that were kind of ho-hum in performance. Oh, and he had some snap on ferrites you could put around your existing coax.
Fast forward a couple of years and gee, the new Palomar common mode choke looks a lot like the MyAntennas line and with similar construction. However, the Palomar specs of 500 ohms to 5,000 ohms choking impedance is quite a bit less than the MyAntennas CMC-130S-3K with its 5,000 ohm to 10,000 ohm choking impedance that costs less. If you look at the top of the line MyAntennas CMC-130-3K it has a minimum of 10,000 ohms choking impedance from 3.8 to 30MHz and over 5,000 ohms at 160m and upwards of 15,000 ohms at 10m and up to 41dB of isolation. And it has about the same retail price of the Palomar MAXI-CHOKER.
I'm a huge fan of Danny Horvat and his company MyAntennas and still recommend his common mode chokes for not only the best bang for the buck, but the best bang period in snuffing out common mode RF problems on your coax. Always let the specs be your guide and if the common mode choke mfr doesn't specify choking resistance or isolation in dB, then they probably don't want you to know or they don't know how to measure it. I attached some web pages below with the brands and models I mentioned.
MAXI-CHOKER Features: - Uses proprietary Multi-Mix, Multi-Core, Multi-Turn(TM) ferrite technology for maximum choking (up to -48 dB common mode noise rejection) and maximum bandwidth - 3 KW PEP, 50 ohm SO-239 connectors In/Out, 1-61 MHz - Suppresses transmitter coax feed line radiation when…
palomar-engineers.com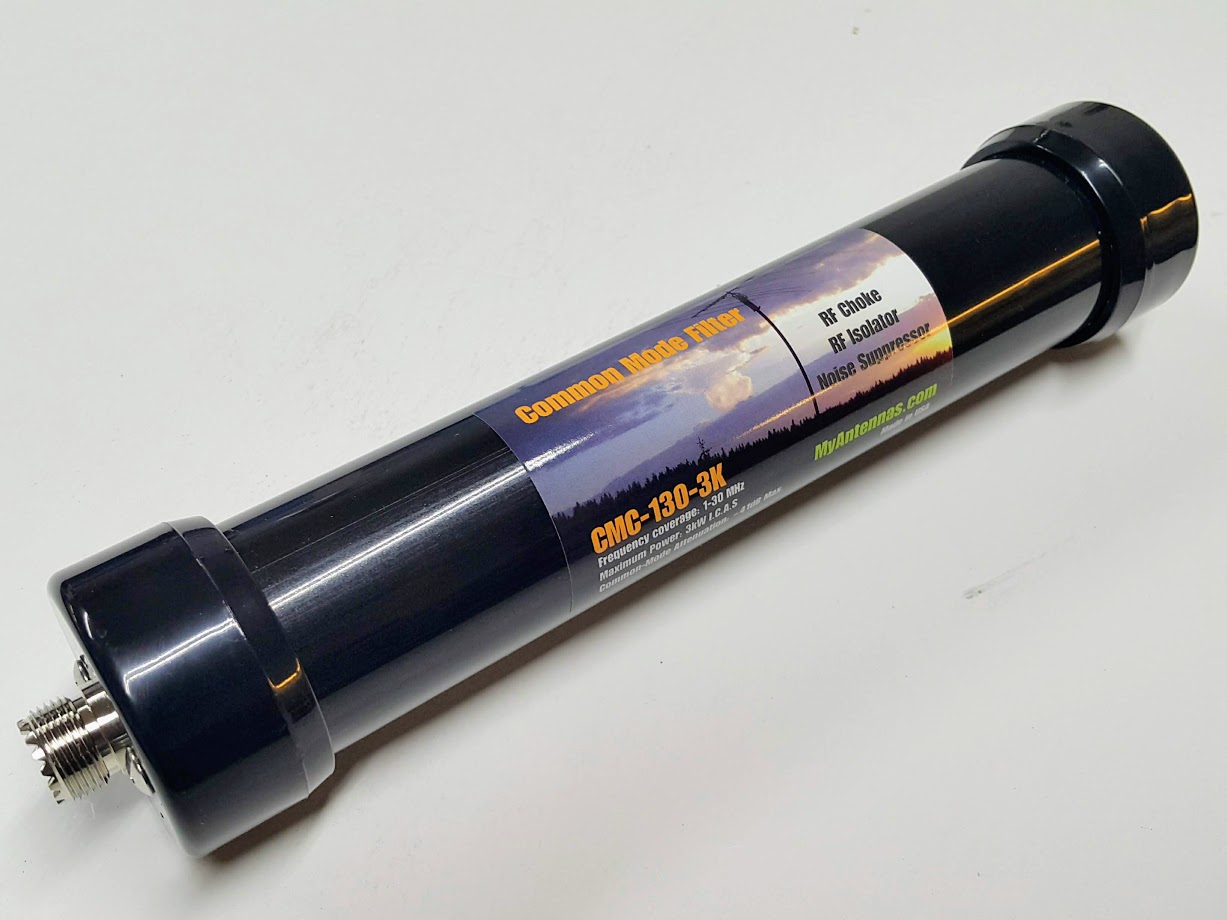 Common Mode Filter Choke / Noise Suppressor / Line Isolator The common-mode filter or choke may be one of the best-kept secrets… www.ARRL.org Multi-Zs™ Technology Covers 1-30MHz Power …