Joined

Jun 30, 2006
Messages

14,743
Here is something I've been wanting to do for a long time but didn't have the COMPACtenna scanner version to test. Another RR member who shall remain anonymous purchased one and sent to me for testing (thanks vagrant!) so I spent some time yesterday running tests on these three antennas.
The test setup was my truck with center of the roof NMO mount on a hill that overlooks much of LA and Orange county in very sunny southern CA. I used an Icom IC-8600 receiver with S meter set up for dBm display and this receiver has a very accurate readout of signal strength to .1dB. I tuned in various signals then immediately swapped antennas while making sure I was receiving the exact same station in every case. Most signals were direct line of sight with maybe a few blocked slightly by the hillside I was on. Swapping antennas for each frequency adds up to more wear on the antenna mount but I trust the data more doing that over tuning in a bunch of freqs on one antenna then swapping to another antenna maybe 30 minutes later with who knows what happens within that 30 minutes.
I'm presenting the data in chart form and also the raw numbers with signal levels in dBm for 26 frequencies tested. I'm not an Excel expert and I could not get the program to do what I want so the chart is part Excel and part hand notated. The left to right frequencies are not to scale with nearly equal distance between data points whether they are a half MHz apart or many MHz apart. The key is the specific color for each antenna where you can see one doing better than the others at some frequencies then that changes at other frequencies where another antenna works better.
Another thing to consider is every frequency is a different transmitter at a different distance producing a different receive level, so don't look at the chart as an overall zig zag of gain like all frequencies came from the same transmitter and antenna. You can only compare the three scanner antennas at each given frequency and another frequency will be a separate comparison.
This is not the absolute bottom line last word on which antenna is better because there are some slight variables, but having a fixed non movable antenna mount at the edge of a high hill and line of sight to most stations and reducing the test time between antennas lowers the potential measurement error.
So which antenna is better? You will have to decide that yourself based on what you want to receive and how you might use the antenna. The Laird WPD136M6C-001 seems to be broader band than the Larsen where it has better performance at some edges of its three advertised bands. You can see this as you go below 2m into the VHF air band and in the UHF T band. The COMPACtenna pulls ahead in the 380 to 450 range then again in the 470 to 509Mhz range. The Larsen is a little better at the upper VHF range and in the 800Mhz range.
Looking at just amateur bands all three are very similar on 2m, the COMPACtenna pulls ahead on 70CM where the Larson is not so great and on 900MHz the Laird is disappointing after an otherwise good showing over most other frequencies.
Here is the data and I hope it helps you decide what your next scanner antenna will be.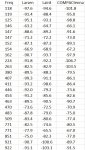 Last edited: