Hello all!
I have returned to seek expertise on a project I am creating.
Task: Create a simplex repeater for search and rescue operations using a mobile radio.
I am trying to find a way to boost coverage of team communications in a remote area. I currently have a 25w AnyTone AT-778UV which I would like to use as the base station.
I am thinking about purchasing a LATNEX RC-S120 Simplex Repeater Controller to connect to the mobile radio; however, the input/output on the repeater controller is 3.5mm AUX and the input/output on the mobile radio is the well known RJ45 connected speaker mic.
If I purchase a
RJ45 to headset adapter
show in the picture below (and the necessary coupler/male-male adapter), will I be able to make the correct connections to create this repeater?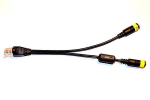 If anyone has created this project before and has a parts list, that would be even better.