Joined

Feb 4, 2017
Messages

539
Location
I posted this photo of my 1929 Westinghouse console radio in a very old thread, but have just discovered some info online about that radio. It turns out to be the Canadian Westinghouse equivalent of an RCA Radiola 66 from the same year.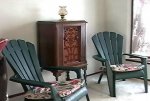 The set was still in perfect working order in 2002, but I no longer have it, because we eventually sold our house and spent a few years living in a motorhome, which could not accommodate such a big item.
The Westinghouse only covered mediumwave, like its counterpart. The grill cloth was identical, but the Radiola had the chassis and controls on a shelf at the bottom, with the speaker at the top -- the exact reverse of the arrangement in my Westnghouse 100. I've also found the operating manual. The set used superheterodyne circuitry, which RCA at that time had patented. Also, the manual refers to the tubes as Radiotrons rather than tubes. Apparently the set wasn't very selective, as the user was advised to keep the volume low, otherwise the station tuned to might be heard across a wide range of frequencies.
Here's the Radiola for comparison: