Newbie
Premium Subscriber
Joined

May 20, 2020
Messages

4
Hey guys, I seem to be having some issues with my antenna setup on my FJ cruiser. I'm currently using about 6' of LMR240UF from my mobile radio (Motorola XPR5550e) and at the other end is a Diamond Antenna dual band SG7900ANMO. I also purchased a PCTEL Maxrad MWU4505S 1/4 wave UHF antenna that I plan on mounting on the roof solely for that Motorola radio and only using the Diamond dual band antenna for a kenwood portable radio. The issue I'm having is that I'm getting high SWR readings with both antennas on frequencies around 46MHZ such as an FRS channel. When I test the SWR on an amateur radio band such as 448.301, my SWR goes down to 1.2 or less. I'm kind of at a loss because I feel like I should have a better SWR on the FRS/GMRS/ business frequencies, especially on the PCTEL Maxrad MWU4505S because I picked that antenna because of the frequency range which is 440-480MHz.
The first set of photos are readings taken with the Diamond SG7900ANMO: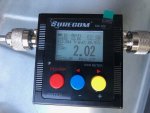 And these other 2 photos below are from the PCTEL Maxrad MWU4505S:
Does anyone have any insight on this? Maybe I'm using a cheap/crappy SWR meter?