Member
Premium Subscriber
Joined

Aug 9, 2023
Messages

5
Location
Evening! So I am very new to scanning and using free scan I was able to get the 4 talk groups added I wanted however I cannot for the life of me figure out how to monitor those talk groups and not everything on the frequency?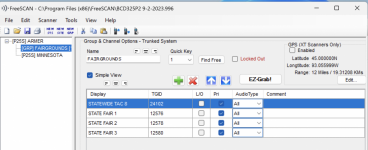 Minnesota- Ramsey
Statewide Tactical 8
State Fair 1
State Fair 2
State Fair 3
I can hold the channel and see them but even with priority set on these it's lost with so much other traffic. I can't figure out how to only listen on these specific talk groups?
Thank you all so much for the tips and tricks to even get this far! I was able to sort out all my issues out and do have talk groups I want but not scanning. Just one at a time
Uniden BCD325P2