Joined

May 19, 2020
Messages

40
Location
I purchased my first radio (Eton Elite Field) two weeks ago. A few days ago I ran 50' of speaker wire from a second floor window to the peak of my garage behind my house.
Second floor window, past the tree to garage peak. Fifty feet long about 13'-14' above ground.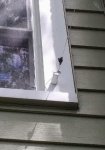 Connection at window. Stripped away insulation and connected feed wire, ran it through the window to the radio.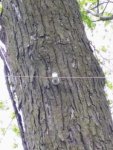 Past the tree to the garage.
Connection to the garage peak.
Hope the pictures help.
I'm happy with the reception I'm getting. I seem to get better reception when I connect the feed wire to the telescopic antenna on the radio instead of the antenna jack on the back of the radio.
Is that normal?
I thought connecting directly to the radio's antenna jack would be better.
Also, I haven't grounded anything yet.
Should I ground the 50' wire antenna to a ground rod? Should I run a ground wire to the ground jack on the back of the radio?
I am new to the SWLing hobby and I would appreciate any advice, tips or criticism on my set up.
Thanks.