Hello all, I am new to this forum and thought I would introduce myself. I work for a company called NavCanada as an Communications/Navigation/Surveillance technologist.
We maintain various pieces of radio equipment as simple as VHF/UHF Tx's/Rx's, LF/MF NDB's with powers up to 5kW. On the more complicated side, we maintain VHF ILS's (Localiser/GlideSlope), VHF Direction Finders, VOR's, TACAN's, SSR/PSR Doppler Radar Systems, and all sorts of landlines.
I also drag along my camera to most sites that we go, and snap some pictures of some pretty "wild" RF equipment.
So anyways, here we go, a few pictures to spark interest.
TACAN 16Way-5.2Kw splitter. 1020MHz DME + UHF VOR
Primary/Secondary Surveillance Doppler Radar, PSR 32kW PPP, SSR 1.2kW PPP
Standard VHF/UHF Patch Pannel for VHF/UHF TX/Rx
Transmitter Site. Long antenna's are Dual Stack Sinclair VHF, Short Antenna's are Dual Stack Sinclair UHF.
VHF Omni-Range + TACAN Site.
VHF Glide Slope Antenna Array using sideways mounted, modified cell phone Antenna's (Modification is -30dB sniffer for intergral monitoring)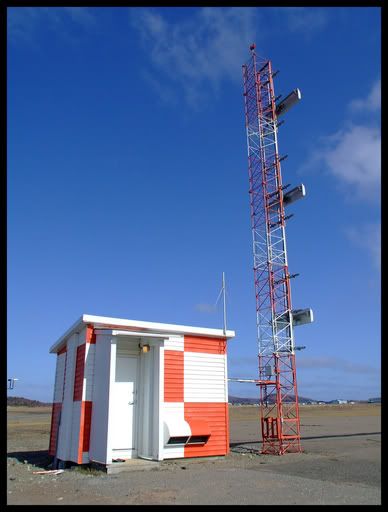 VHF Localiser Array using 16 LPDA VHF antenna's.
And finally VHF direction finder antenna array!!!