We recently got a police scanner from Frys electronics.
and after all the hidden costs (usb to serial cable + software to program it) of it we finally have everything we need to start programing it.
I loaded up the ARC program and have been grappling with it for a good 5 hours.
If anyone could point me to some detailed guides on fully configuring a frequancy and trunk the said frequency that would be awesome.
i am not getting the whole truncated thing. On one hand I have seen in a few wikis from this site that you dont have to program the trunks, just the control.
yet in the extremely crappy manual for the ARC program it says that you have to for the scanner to trunk the signals correctly.
I have tried a few different things, but nothing seems to work.
this is what the trunk page looks like: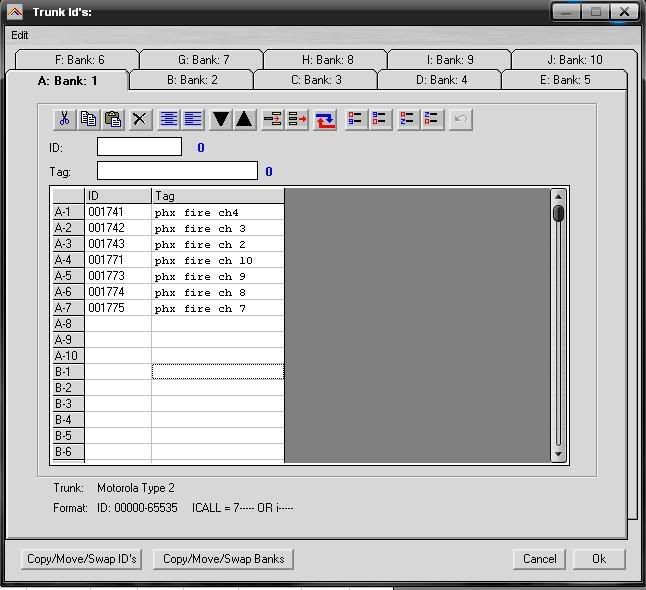 and i entered in the DEC id (as was suggested in the trunk programming FAQ) from this list:
Phoenix Fire Talkgroups

DEC HEX Mode Alpha Tag Description Tag
1741 6cd D PHXFDPATCH4 VHF-Patched Ch 4 Fire-Tac
1742 6ce D PHXFDPATCH3 VHF-Patched Ch 3 Fire-Tac
1743 6cf D PHXFDPATCH2 VHF-Patched Ch 2 Fire-Tac
1771 6eb D PHXFDPATCH10 VHF-Patched Ch 10 Fire-Tac
1773 6ed D PHXFDPATCH9 VHF-Patched Ch 9 Fire-Tac
1774 6ee D PHXFDPATCH8 VHF-Patched Ch 8 Fire-Tac
1775 6ef D PHXFDPATCH7 VHF-Patched Ch 7 Fire-Tac
1776 6f0 D PHXFDPATCH6 VHF-Patched Ch 6 Fire-Tac
1777 6f1 D PHXFDPATCH5 VHF-Patched Ch 5 Fire-Tac
1794 702 D PHXFDPATCH1 VHF-Patched Ch 1 Alarm Fire Dispatch
1795 703 D PHXFDPATCH1a VHF-Patched Ch 1 Alarm Fire Dispatch
could really use some help! thanks.