Member
Premium Subscriber
Joined

Dec 19, 2002
Messages

115
Location
So, I've been trying to get the one radio setup option working with DSDPlus Fastlane.
I edited my batch file for FMP24-CC to the following:
FMP24 -rc -i1 -o20001 -a1 -P0.0 -b12.5 -f855.6625
Here is what FMP24 looks like:
I am not getting any decodes though when I run the 1R batch file:
DSDPlus -r1 -T -E -Pwav -i20001 >>1R-log.txt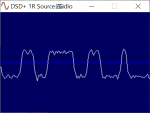 When I turn monitor on, I can hear the control channel in the application.
Thoughts?
Unitrunker works fine and decodes without issue.