Joined

Jun 30, 2006
Messages

13,501
We took in another abandoned child recently at the prcguy antenna orphanage, an Italian made 130MHz to 1,300MHz Log Periodic by PKW. Its very well built, except I didn't approve of the way they fed it with a huge bulky adapter with N connector. That sits at the high frequency end and its larger than the 1300MHz elements right next to it. There were also some funky VSWR blips above about 700MHz which I'm attributing to the feed thing.
So I decided to do a little surgery and eliminate the large appendage and make it more like some other well made Log Periodics I've had. I removed the odd looking assembly and replaced that with two thin brass sheets which will have a permanent soldered run of double shield, silver plated Teflon coax attached via some plastic cable clamps along the grounded side of the boom. Here is a view of the brass parts and new coax plus a female N connector mounted at the rear of the antenna on an L bracket.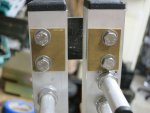 So now this newcomer with its snipped feedpoint and new silver plated coax can mingle with the other antennas here and feel comfortable that nobody will point and laugh. I'll also sleep better too.