Joined

Aug 4, 2020
Messages

1,445
Location
President George II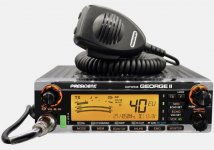 CB Radio - AM / FM / SSB transceivers - GEORGE II
president-electronics.com
Starting a thread so that the latest & greatest from
President
has a discussion home.
General release in EU is just up ahead. Price is high at the moment, but so is demand.
All I know is that I really want one. I don't see anything quite different from the
Anytone
Q5/Ares (power output excepted), so I already "know" that this pair of ears ought to be as good as what can be had.
— One way or another I've wound up with
President
antenna, microphones, and transceivers for my pickup truck and have decided that this radio deserves center spot.
— A
wireless
Liberty
mic, and a
Randy
are how I see making the most of a travelers Citizen Band radio rig. (
Digimike
, also purchased). Mobile or stationary. AM or Sideband. Tow vehicle with travel trailer (which has separate station;
Lincoln II+
).
One man, or with a family, where CB is seen as primary comms (but not exclusive) be it on foot or with several vehicles/stations.
My pickup can be set for extended high idle as power plant (Cummins engine) for uses other than radio when remote camping. So, whether with a mobile antenna or something on a tripod or in trees, the George II ought to fill the CB expectations.
I'd
like
to think
President
quality will be worth the extra coin over the long-term.
.