Joined

Feb 28, 2020
Messages

13
Location
Hi there. I just got my new G5 today and finished programming it. I have Knob 1 and 2 set up as VHF 2 tone selective call alert. I created my 2 tone sets in D4 for 2 different fire companies in Camden county NJ. My station was dispatched today as my Minitor 6 went off but the G5 did not. Not sure what I did wrong. Here are some screen shots of my programming. My fire dispatch freq is 154.430 MHZ. As per RR database, it does have a CTCSS code of 192.8 hz. Do I have to make sure that is programmed in D5 as shown below?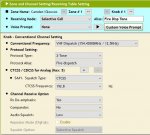 I am trying to program these few knob positions so they act like my Minitor 6. Also, I have knob 3 as Monitor mode on the VHF frequency so I can listen to the dispatch frequency. However, I am only hearing the dispatchers voice and not the tones as they are sent out. On my Minitor 6, when I am monitoring, I hear the tones come across the pager, what I am doing wrong on the G5 that I don't hear the tones? I did find out that when I hit the reset button on the side of the G5 as the tones are going out that I hear on my Minitor 6, then I hear the tones on the G5 but when I release the button, I don't hear them any more.
Thanks for the help.