Radio Geek
Premium Subscriber
Joined

Jan 21, 2002
Messages

7,156
Location
I have been given word that this upcoming Tuesday March 6th at 0500hrs (5am), Raleigh PD will switch permanently to Split District Dispatching.
For the new folks or for those that slept through the testing periods of Split District Dispatching that Raleigh Did over the last month or so here is a refresher course on the changes:
As most are aware Raleigh PD divides the city up into 6 districts: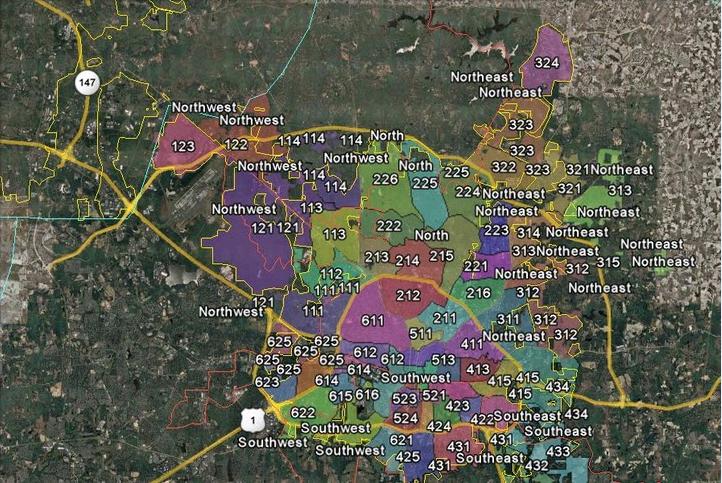 The Northwest District units have 1xx radio callsigns and their dispatch TG is 40016.
The North District units have 2xx radio callsigns and their dispatch TG is 40032.
The Northeast District units have 3xx radio callsigns and their dispatch TG is 40048.
The Southeast District units have 4xx radio callsigns and their dispatch TG is 40064.
The Downtown District units have 5xx radio callsigns and their dispatch TG is 40080.
The Southwest District units have 6xx radio callsigns and their dispatch TG is 40096.
Since Raleigh PD moved to 800Mhz all 6 dispatch talkgroups above have been patched together with one dispatcher dispatching calls citywide.
Raleigh PD has also used 3 Status Channel TGs:
40112= Southern Unit (4xx, 5xx, 6xx) Status (also known as "Ral 2")
40192= Northern Unit (1xx, 2xx, 3xx) Status (also known as "Ral 3")
40400= Special Ops Status (also known as "Ral 8")
On Tuesday at 5am RPD will be switching to
"Split District Dispatching".
Once underway the following dispatch talkgroups will be
patched together and dispatched out independently:
Northwest District (1xx Units) TG 40016 will be patched to Southwest District (6xx Units) TG 40096.
North District (2xx Units) TG 40032 will be patched to Northeast District (3xx Units) TG 40048.
Downtown District (5xx Units) TG 40080 will be patched to Southeast District (4xx Units) TG 40064.
With this new Split District Dispatching there is another big change: The 3 status TGs will
NOT
be used.
All Dispatch & Status will occur on the Dispatch Talkgroup as evident in this example
:
That means
all radio traffic
(calls, vehicle stops, status updates) will take place on one of the 3 sets of patched dispatch TGs. No more separation of dispatch & status on different channels/talkgroups.
Note that RPD Officers are advised to use their MCTs (Computers) for as much off radio routine status info such as report numbers, nature change, code, status to free up the Dispatch TGs.
Also note that High Priority calls (robberies, shootings) will still be dispatched over all 6 dispatch TGs.
Also Keep in mind that
Wake County Event 10 (TG 34368)
is set aside as a
Countywide "Chase" Channel
. This is for Multi-agency use for situations such as a pursuit that starts in one Wake County city/town and extends to other agencies jurisdiction.
I always recommend keeping Event 10 in your scan list
.
To make it easy to understand I am sharing the following files...just right click and select "save as".
--
Raleigh PD Split District Dispatching Word ".doc" document
Uniden HomePatrol HP-1 hpe files (Just import into Sentinel and write to your HP-1):
--
All 6 RPD Districts in one hpe file
--
RPD NWD and SWD Dispatch ONLY
.
--
RPD ND and NED Dispatch ONLY
.
--
RPD DD and SED Dispatch ONLY
.
Freescan File for use with the BCD396XT & BCD996XT (should also work for 396t/996t)
:
--
Freescan File
.
Win500 File for use with various RS and GRE Scanners
:
--
Win500 File
.
NOTE: Win500 file has the following setup:
Scan List 1= RPD NWD & SWD DISP
Scan List 2= RPD ND & NED DISP
Scan List 3= RPD DD & SED DISP
Scan List 4= RPD LE OPS TGs 5-12
Scan List 5= RPD DIST TAC 1s
Scan List 6= RPD DIST TAC 2s
Scan List 7= RPD Special Ops and INV TGs
Scan List 10= RPD Backup Status TGs & Front Desk
Win96 File:
--
Win96 File
.
Sorry fellow BC3 owners...I can't make you up a crystal set for these changes.
I am going to "stick" this thread for awhile to hopefully keep the questions to a minimum.
Happy Monitoring
Marshall KE4ZNR
Last edited: