KO9JAD/Fire Lieutenant/Paramedic
Feed Provider
Joined

Nov 18, 2004
Messages

711
Ok, the Shack with the Zetron Model 27 Receiver Monitor is Complete. Purchased "BRAND NEW" with all parts and connections off of eBay.
I'm so glad I went with the Model 27 vice the music/DJ style previous Mixer. The sound quality/clarity is amazing and the "Blinking" active and "Solid" Mute LEDs are great.
My old setup used to be a "Digital Side" vice an "Analog Side" well now I call it an "Active Deck/Side" and a "Static Deck/Side".
The
"Active Deck"
are the items I have to adjust or fiddle with and can NOT be controlled via PC, it's right up front against my keyboard.
1)
Zetron Model 27 Receiver/Monitor
- 6 Sources Coming In (2 Open for Future Use) like my SDS100 once another patch cable arrives. It's mounted in a 3U Box from
Pearson Cases
off of eBay. Since it's 3U and I used to have a 4U here, I now have room for the below radios.
2)
Yaesu FTM-200DR
- Local and Statewide Ham, Florida SARNET, and Marine specifically, I'm 8 miles from the beach. This is my "bugout" radio as well. I have a backpack and a specially built frame set up for it with a battery.
3)
Motorola XPR5550e -
DMR Only. (Programmed for Receive Only) I am surrounded by DMR "stuff" so much so that I will not dedicate a scanner to it. This XPR was cheap on eBay. It's programmed with a ton of Local, State, and Feds Government agencies, Airport Services, Private Ambulances, Private Utilities, Son's High School, etc.
Both these radios' sound goes through the pictured Yamaha Studio Monitor Speaker and not the Model 27. Excellent audio from the Yamaha.
The
"Static Deck"
I don't really have to mess with except maybe sometimes locking out a channel or volume.
This side is all PC Controlled through
ProScan.
This is my previously used 4U Pearson Case stacked on a 2U case.
1)
Top Left SDS200
- ALL Local Simulcast 700-860mhz. PD/FD Fort Lauderdale and Miami
ALOT of Simulcast
Nothing Encrypted, 5.5 million people metro area.
2)
Top Right BCT15x
- Aviation 4 Airports Monitored, Mil Air, Mil Ground, Misc. Local/State/US Government VHF/UHF Non-Ecrypted.
3)
Middle Left Motorola XTL2500
- My Agency Dispatch Channels
4)
Middle Right
Motorola XTL5000
- My Agency Tactical Channels
5)
Bottom Right BCT15x
- Broadcastify Feed using
ProScan Radio Feed
6)
Bottom Left BCT15x
- Broadcastify Feed using
ProScan Radio Feed
Portables on Top of Box
Left Motorola XPR7550e
- My Agency and DMR Private Ambulance
Middle SDS100
- Listening to the same as SDS200, they are both very busy all the time.
Right BC125AT
- Weather and will program on the fly for whatever I need heading out. Airshows, etc.
Antennas
1) VHF/UHF Tram Ham 200 watt max for the FTM-200DR in the back of the house out of sight of the HOA.
2) Laird Mobile 700-900mhz with Base ground plane kit into a Eberline EDA2200 2 Port at +11db per port for SDS100/200.
YES, it's on the same mast as above but I do not transmit with SDS100/200 on.
3) Tram VHF/UHF Discone in Attic out of sight into an Eberline EDA2800 8 Port +4db per port for the XPR5550e, XTL's, and BCT15x's and 2 SDR Dongles.
Well, that's it...for now.
Jim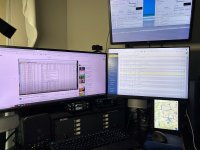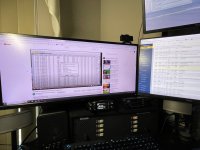 Last edited: