Joined

Feb 21, 2003
Messages

374
Following search and stored from
area below, went on a little "couple hundred mile" (lots of backroads) road trip today.
I've already weeded out over 200 Frequency/Tone pairs to plausible hits based on my own database. I've been experimenting with MS Access a bit to make search and stores a breeze to weed out known frequencies so those "unknowns" can be scrutinized and discovered.
Yellow= "approximate path driven"
Red= "best guess area", however due to open terrian / elevation advantages (i.e. Bland County ) I expect some to be much more North and East than what the mountains typically allow while mobile.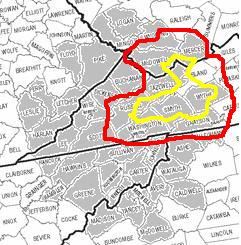 Freq Tone
150.9650 146.2
151.2100 71.9
154.0600 d205
155.1300 110.9
155.7600 162.2
155.8700 74.4
156.4050 79.7
158.8050 192.8
158.8350 110.9
159.5750 85.4
452.0500 162.2
452.0750 d445
453.5000 203.5
453.6375 91.5
453.8125 74.4
458.5000 203.5
461.2250 94.8
461.8875 131.8
462.0750 d023
463.5375 d072
463.5500 79.7
463.7500 114.8
464.0750 d174
467.2500 d023