IL / MO Database Admin
Database Admin
Joined

Mar 29, 2004
Messages

826
Location
Talks underway to consolidate fire functions in five St. Louis County municipalities | Metro | stltoday.com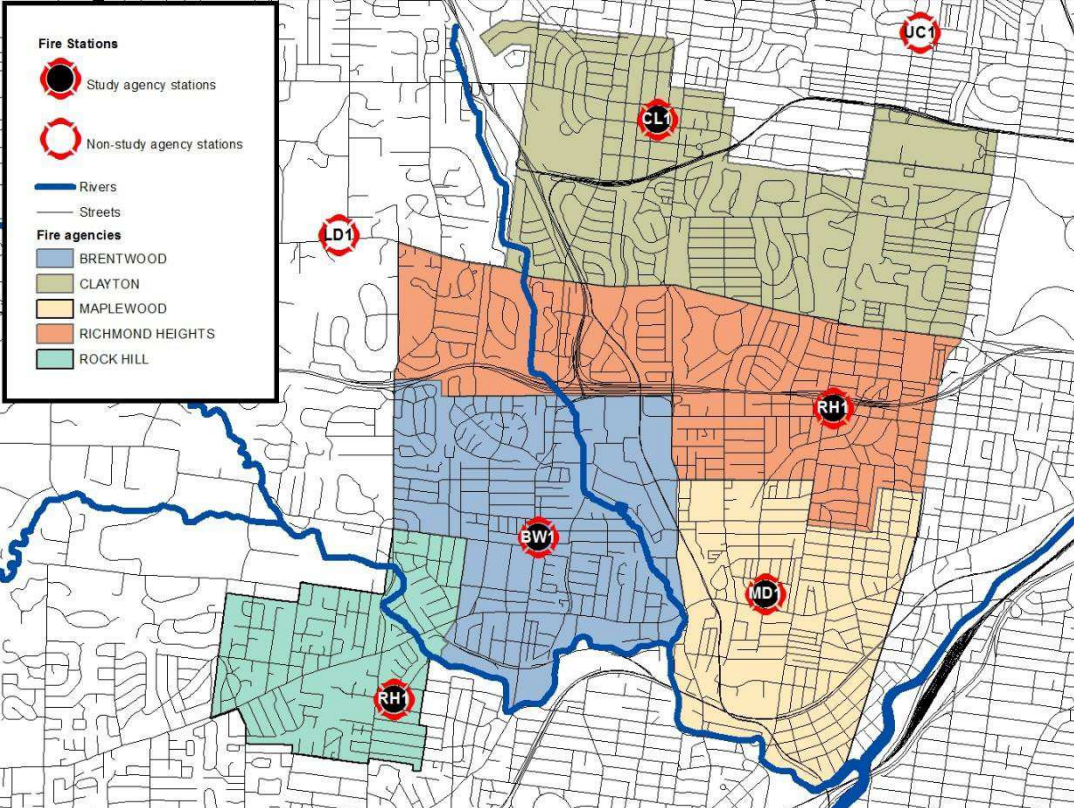 By Steve Giegerich St. Louis Post-Dispatch 12 hrs ago (…)
CLAYTON • To rampant commercial growth, high school sports rivalries and complaints about traffic congestion, add another certainty to life in the inner ring St. Louis County suburbs:
Talk among municipalities about consolidating services.
Since 2001 alone, Richmond Heights, Maplewood, Clayton, University City, Olivette, Glendale, Brentwood, Rock Hill and Kirkwood have floated the idea of merging some aspect of their public works, public safety or administrative functions.
Five of those municipalities will convene again this week to begin hammering out details of an agreement that could establish a unified command structure to oversee fire responses and prevention in Clayton, Maplewood, Richmond Heights, Rock Hill and Brentwood.
The parties involved caution that a five-city implementation of the plan that emerged from a report by Oregon-based Emergency Services Consulting Inc. is still very much at the formative stage.
"It is premature to say this is a really great or really horrible idea," said Clayton City Manager Craig Owens. "But a national expert" on maximizing the delivery of fire services — meaning the consultant — "says it is worth studying," he said.
If adopted, the ECSI proposal would consolidate the fire command functions in the five departments in a nine-person management team.
The model calls for one chief to direct fire operations in the participating cities. Three deputy chiefs, three battalion commanders and two inspectors would fill the remaining leadership roles.
The collaborative staff would be drawn from personnel currently supervising operations in the five departments.
Owens envisions a command team that combines the expertise of specialists in firefighting techniques, prevention and community outreach.
The system of autonomous fire department leadership, he noted, tends to value chiefs who are "jacks of all trades and masters of none — it's really just being smart about how we approach customer service delivery."
ECSI puts the annual cost of a combined management structure at $1.625 million.
The command function would be subsidized by participating cities through a formula that takes into account the size of coverage areas, average number of annual responses and other criteria.
But the municipalities claim the shift of some mid-management positions to a shared command structure would provide overall savings at the department level.
'Who will I work for?'
One, Richmond Heights, expects to reduce its annual fire budget by up to $640,000 under the plan.
Richmond Heights last Monday became the final municipality to join a conversation that includes input from top administration and fire officials representing each community.
The unanimous City Council vote that gave Richmond Heights officials the go-ahead to join the talks was, however, preceded by observations that hinted at the issues that will likely stand in the way of the proposal moving forward.
"How can one chief run five departments with five different protocols and policies?" asked Richmond Heights firefighter Luke VanCleave. "Who are we going to answer to? I work for Richmond Heights. But if this is all said and done, who will I work for?"
Resident Michael Jones weighed in on a factor that could prove a tough sell for the proposal.
"It starts with a drip, drip, drip," Jones told the Richmond Heights council. "Public safety, then maybe public works and (soon) we are one big city and county. And when that happens (Richmond Heights) will no longer be a city."
The perception that collaborative efforts pose a threat to the uniqueness of each community presents a formidable challenge.
"We've been very clear that all the cities will retain their own departments," Owens stressed.
He nonetheless acknowledges that it is imperative that the plan emphasize that individuality will not be sacrificed in the name of consolidation.
Or, to cite former Kirkwood Mayor Art McDonnell, "a city doesn't have to lose its identify as a community just because they are being efficient."
Far enough?
The officials studying a revamped fire command structure also expect to hear from Kurt Becker, the district vice president of the International Association of Firefighters Local 2665 — the union that, with the exception of Rock Hill, represents uniformed personnel in each city that could fall under an agreement.
Becker contends the ECSI proposal, in its current configuration, will curtail the number of front-line battalion chiefs overseeing operations at fire scenes.
The reduction, he says, poses a danger to rank-and-file firefighters.
Becker raises an additional argument that the scenario envisioned by ECSI doesn't go far enough.
He suggests that the establishment of a fire protection district to serve not just Clayton, Richmond Heights, Rock Hill, Maplewood and Brentwood but all nearby suburban communities is more logical. Such a broader arrangement, he said, could provide effective and efficient fire coverage to the near suburbs.
Fire and emergency services protection districts currently serve approximately 75 percent of county residents.
"We could build the exact same thing in the middle of St. Louis County," said Becker.
David Leipholtz, director of community studies at Better Together St. Louis, the nonprofit analyzing regional approaches to government, concurs with Becker.
Leipholtz calls a five-city collective of supervisors an "interim step" that neglects to address cost-inflating service redundancies.
"I don't see how (a unified command) benefits improving safety of region as a whole," says Leipholtz.
To illustrate his point, Leipholtz cites an incident when departments from a handful of smaller county municipalities lacking a hazardous material response unit were forced to summon the city of St. Louis Fire Department to address an ammonia leak.
"We've found that bigger is better when it comes to fire protection and emergency services," said Leipholtz.
Devil in the details
Pat Kelly, the executive director of the Municipal League of Metro St. Louis, sees it differently.
Kelly calls the move to combine fire leadership into a single unit "a natural progression for municipalities looking at cooperative efforts."
Owens says the key to getting Clayton and its fellow cities on the same page is identifying the "sweet spot" where cost and delivery of service best meet the needs of residents in each of the communities.
At the same time, neither Owens or anyone else harbors any illusions that getting five cities on the same page will be an easy task.
"The devil is always in the details with all these projects," says Webster Groves Mayor Gerry Welch, a member of the board of Cities Strong, an advocate for cooperative efforts among the 90 St. Louis County municipalities. "You really need to talk and walk things through very carefully to make something work. It requires a lot of give and take."
Webster Groves, Welch added, intends to "keep an eye" on the progress of the ECSI talks.
McDonnell, the former Kirkwood mayor, can tell Owens and his counterparts about the pitfalls that await.
Kirkwood for years has met no success in overtures to merge its fire operations with neighboring Glendale.
The latest rebuff occurred on Aug. 2 when Glendale voters approved a bond referendum that opened the door for the construction of a new $8 million fire and public safety headquarters.
In doing so, McDonnell said, Glendale "citizens made the decision that they want to have a fire department of their own."
Independent fire companies may have long had a presence in Brentwood, Richmond Heights, Clayton, Rock Hill and Maplewood. But those departments do not function with complete independence.
They already share East Central Dispatch radio frequencies and training regimens. Discussions are underway about collaborative equipment purchases.
A consolidated command, said Rock Hill City Administrator Jennifer Yackley, "will formally put together what we're already doing. We already work together."
Case in point: The response of equipment from five area departments for a recent call for service — a false alarm — in downtown Clayton.
The discussion about to get underway is not the first time the inner cities have mulled the idea of consolidating services.
Olivette and University City in 2009 joined with Clayton, Richmond Heights and Maplewood to consider another proposal to streamline public safety functions. Those talks also grew out of a study by ECSI.
"There has always been a willingness to have these conversations, but it always ends up not going anywhere," says Better Together's Leipholtz.
Owens is cautiously optimistic that the conversation this time around will end differently.
"It's very scalable," the Clayton city manager said of the ECSI framework. "And these five municipalities provide a critical mass where it makes a lot of sense."