Member
Premium Subscriber
Joined

Aug 12, 2005
Messages

455
Location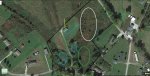 Years ago I talked about adding an outside antenna here. My wife and I decided the risk from lightening was to high because as you can see, there is no trees anywhere around the house.This is 5.5 acres. I tried to explain all this with colors so I hope it works.
Black line: Property line
White circle: Swampy area thanks to pond across street draining under street
Blue line: home is on a hill and the property slopes out front
Blue circles: Ponds
Red line: Property is flat but lower then home
Green circle: highest spot I have on property (hill)
Light green line: Where house ground and power meter is located
I just got back into scanning and also have an SDR for HF. My home has a metal roof so the inside is not the best place for signals (although I do pick up stuff would just get more outside). What I would like to do is get the safest, most cost effective setup I could get. The hill is a decent amount higher then the house but it would be a long way to run a ground and the pond would make it a challenge. Doing something at the house is fine as the house is on the second highest hill. Now the swamp would be great for ground conductivity I would think but that side of the property gradually goes up (and get drier) towards the road.
Any ideas for this situation here? Thanks for looking.