Joined

Jul 22, 2008
Messages

19
Location
So after growing tired of constantly clipping/unclipping my BR330T from the car to the house, I decided that it was time for a permanent mobile unit. My car had an extra pocket in the bottom, and the measurements showed me that the BCT-15 would fit with some slight modifications. Initially, the BCT15 did not want to fit. I had to use a Dremel to trim down a bit of the plastic at the entrance of the pocket. After some minor trimming, the BCT15 only needed a little push to get it to go in the pocket. I didn't use a DIN-E sleeve, due to the bottom pocket being designed to only hold the old factory CD player, and nothing else (the top pocket where you see my aftermarket radio previousy held a fat, ugly radio/cassette player).
I mounted it using Loctite "Power Grab" double-sided tape (heavy duty type) They look like glue strips to me. I placed a few on the bottom of the BCT15.
Antenna? My car antenna. I bought an AM/FM Antenna Coupler with the BNC connector. 25-1000MHz coverage. It works really well, and there is no interference when you have your scanner and radio on at the same time
How's it being powered? Black wire is grounded, red wire is in the fuse block. Orange wire was cut and heat shrinked, don't want it. All wires routed through plastic tubing.
I have a Motorola two-way radio portable mic plugged in the External Speaker jack (had the mic gathering dust in the closet, thought I'd put it to good use). It's a 2-pin, but I snapped off one of the pins, and left the 3.5mm plug attached. Yeah, yeah, I know...get a real external speaker! Well, there isn't a lot of room for anything in my car, and I don't want to add any more clutter. I want to be comfortable, and I don't want my passengers to feel confined, either. No room under the seat, it has power-operated seats.
In the past, I have installed car stereos and car sound systems. Installing the BCT15 in this particular car was a pain in the ass. It was totally worth it, though.
Motorola mic between the seat/center console. My BR330T's old mount..now being used to hold my phone.
DC Cord routed through plastic "snake" tubing.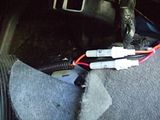 Last edited: