Member
Premium Subscriber
Joined

Aug 24, 2003
Messages

535
Location
This is my second Uniden scanner modified by Jon, my first was my BCD436HP, modified twice by Jon. The second time was to upgrade the GPS receiver to a much faster, and lower power consumption model. This time, I sent in my year-and-a-half-old SDS100 for the internal GPS receiver mod. I can tell you that Jon just keeps getting better and better at this. The mod is very well integrated into the radio, with the only external evidence being a third LED on the top front of the radio, and you can't install the belt clip knob anymore. That's because that is the only real space inside the scanner for the GPS receiver/antenna. The receiver warms up and starts receiving quickly, giving you a green LED to know it's powered up, and a flashing red/green when it has a 3D lock, and is giving your scanner a good position.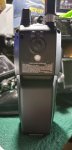 I also took the opportunity to have Jon install a new, extended battery cover latch, one that he has designed and fabricates himself. It provides better leverage and feels more stout than the original. All-in-all, another great product from the Uniden Scanner Mods & Accessories team (of one).
The price is right, the work excellent, and shipping is fast. Take the leap, get GPS installed, you won't be disappointed.