Joined

Dec 27, 2007
Messages

203
Location
Hello fellow radio hobbiests. I'm in a bit of a fix here currently. I got my scanner almost a year ago (PRO-2052), and I only used the stock antenna. But to get the best reception, I installed an outdoor antenna: (Three long planes pointing downward are circled in red)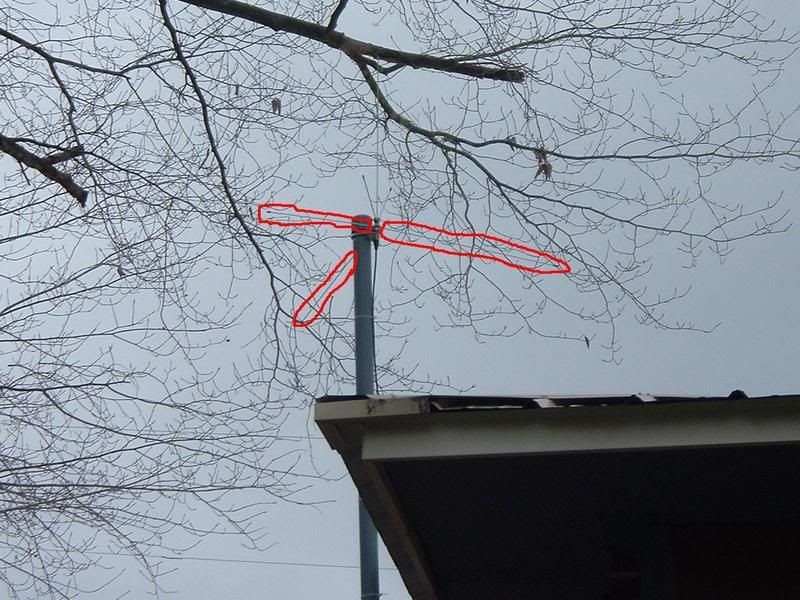 I'm pretty sure it's the RS 20-176, cause it's look just like it. I hear it's an OK antenna, but not the best in 800 Mhz.
My other problem is that I'm using RG-58 cable. I'm going to replace it. I've heard alot of good things about LMR-400 coax, so I'm thinking of going with that. I've also heard good things about RG-6 and RG-213, but from what I've been reading here, LMR-400 seems to be the best bet.
I mainly listen to 140-160 MHz and 450-470MHz, but I'm also interested in trunking some 800MHz frequencies, which I can't do with my currenty setup. I can pick up one Motorola trunking frequency in 800MHz, but it goes in and out. The EDACS frequencies I'm trying to pick up won't come in at all.
So, my question is, shall I just try changing the coax first and see if I that'll give me good performance in 800MHz, or should I change the antenna too while I'm at it?
And one more question. What is the expected range for the average antenna in miles? I'd like an antenna that picks up frequencies as far out as possible, like 100 miles or so. If it'll put a whole in my wallet or if there's no such thing, it's not necessary.
Thanks for any help.