SCANNING THE AIRWAVES SINCE 1987
Premium Subscriber
Joined

Jan 23, 2008
Messages

2,262
Location
Shack gets a makeover.
They (whomever "they" may be LOL) say that imitation is the sincerest form of flattery. Well, if that is the case, Rich (N9JIG), who recently "racked his shack," should feel very flattered. I got a lot of inspiration from his pictures (as I'm sure a lot of folks did
)
I'd been wanting to redo my set-up for a while, but wasn't sure in what direction I wanted to go. Back in early 2009, my shack looked like
this,
and was kind of thinking about something along those line again when I saw Rich's pictures. Then I definitely knew how I wanted to do things.
I had already had the rack that's now holding the two BCT15X's (got it when I bought a 15X and a 996XT off of eBay), but needed a couple more racks for the 996XT's, the PRO-197 and the 536HP. Found those online. Trips to my local Radio Shack and Menard's got me the rest of the supplies I needed. All that was left to do was to put it all together.
Not yet quite as "clean" as I want it to be; need to redo some of the screws so they are a little more flat against the racks (that's what's "bulging" in some of the pics; they are covered by a strip of black duct tape), but overall, I think it looks pretty good.
Here's what my shack now consists of......
Here's an overall view of my scanners (well, all except one 536HP which is on my kitchen table).....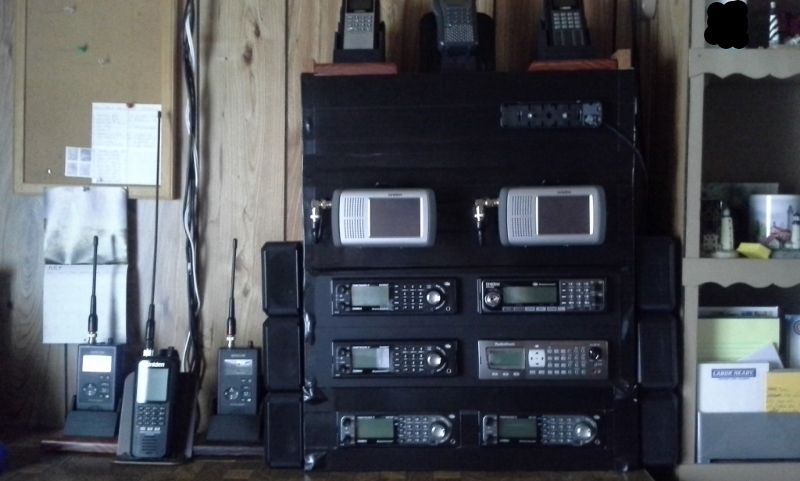 The bottom half of the rack. Top row: BCD-996XT & BCD-536HP. Middle row: BCD-996XT & PRO-197. Bottom row: BCT-15X & BCT-15X.....
The top half of the rack. Top row: BCD396XT, BC246T & BR330T. Bottom row: HP-1 & HP-1; both extreme. There in the middle is a remote mounting bracket for my Yaesu FT-7900 for when I want to work 2mtrs / 70cm while at my scanner desk.....
Next up are three more handhelds; PSR-800, BCD436HP & PSR-800.....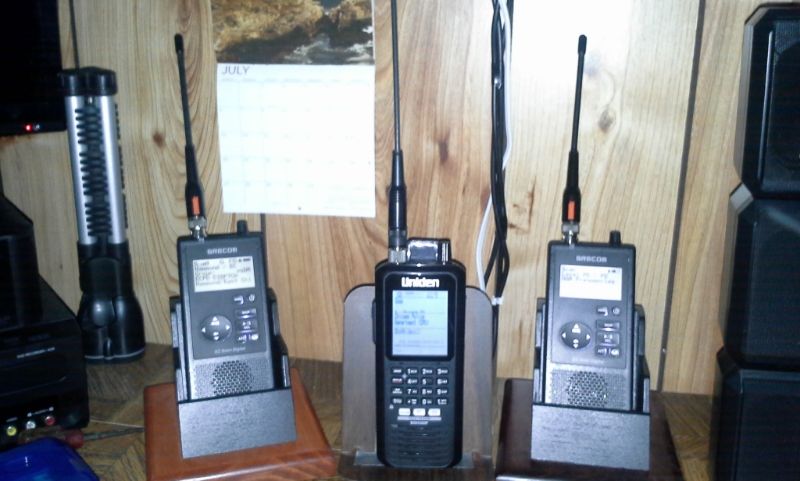 And finally, as far as scanners go, the obligatory "lights out" picture. Looks pretty good, dontcha think? LOL.....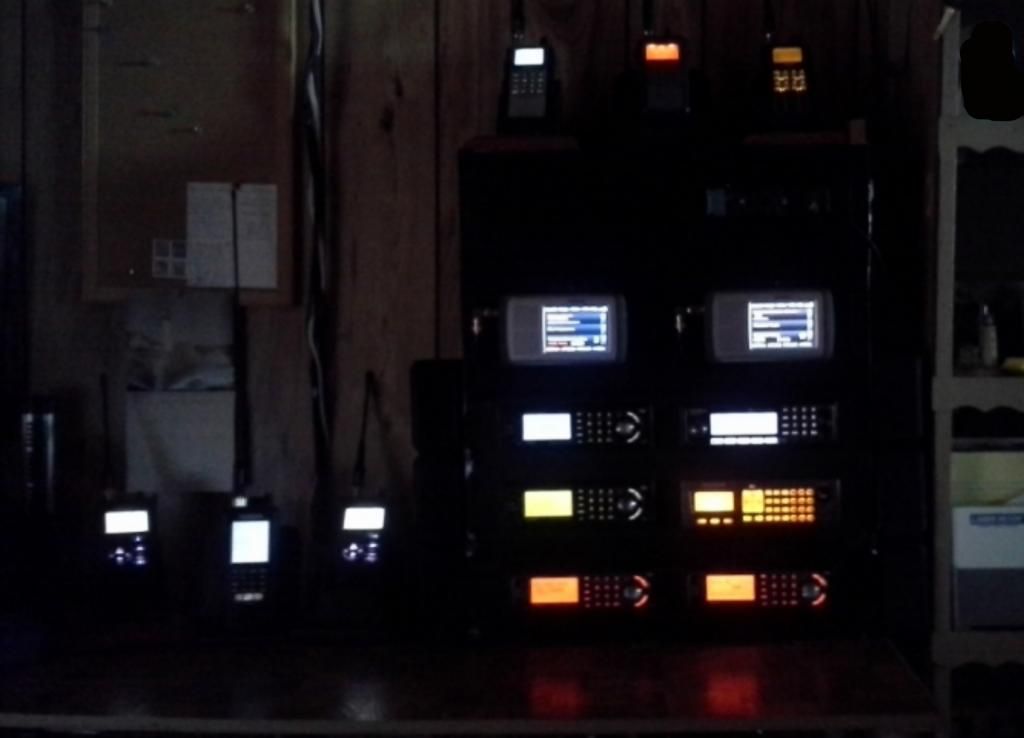 And now for the Amateur Radio side of my shack.....
There on the top shelf are 2 Wouxun KG-UV8D (2mtr/70cm) handhelds, a Baofeng UV-82X (2mtr/222MHz) handheld, a Baofeng UV-3R (2mtr/70cm) mini handheld and a Kaito KA-1102 short wave receiver. In the middle I have a TYT TH-9800 Qual Band (6/10/2 mtr and 70cm) mobile, a Yaesu FT-7900 Dual Band (2mtr/70cm) mobile and a TYT TH-9000 Single Band (222MHz) mobile (all working as base radios). There on the bottom right is a Cobra 29XL CB radio.....
A close up of my lighted callsign plaque.....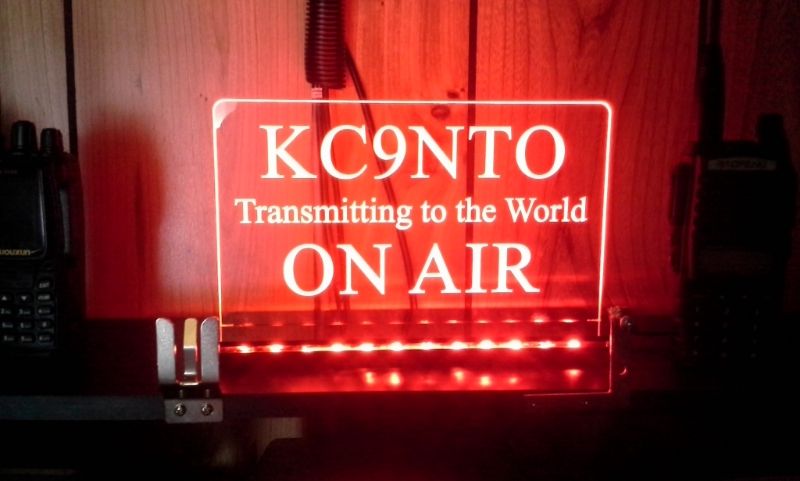 (pictures of my mobile installation will be coming soon in a separate thread)
Last edited: