Member
Premium Subscriber
Joined

Jan 1, 2005
Messages

890
Location
Hello, I wanted to create this post about this topic and hopefully try to collect hard to find info on what RR folks here know about the following:
Ambient Devices runs a data network called "Ambient Information Network" that sends weather, stock market activity, sport scores, energy pricing and usage using a paging network that utilizes encoded FM radio stations to send out a data broadcast signals to ambient devices.
Ambient Information Network is a Data-casting service that uses the USA Mobility 900 Mhz Nationwide Paging Network that covers 90% of US pop.
Question #1 : Does anyone know the exact Nationwide Frequency that these devices use ?
USA Mobility
- (Was Arch, Metrocall, PageMart, PageNet and Sprint etc)
929.6625 6400 Baud Flex Inverted, Phase ABCD - (Active now in San Antonio, Texas)
929.5875 6400 Baud Flex Inverted, Phase ABCD - (No activity heard in SATX)
929.6125 3200 Baud Flex Inverted, Phase AB - (Active now in SATX)
931.2125 3200 Baud Flex Inverted, Phase AB - (No activity heard in SATX)
Question #2 : Does anyone know if the Ambient Information Network is shutting down & when ?
Some info pointed to the AIN being shut down after Dec 31, 2019 but SATX and other cities are still up and updating WX devices etc.
I searched and found an article with a lengthy user comments section that has some good info in this link :
Each day, we look at our Bushnell weather center to see the time, temperature, and weather forecast. Today, on New Year's Day, our Bushnell weather center presented us with this ominous message...
jillcataldo.com
Question #3 : Can this AIN datacasting be decoded and displayed using an SDR and a PDW type software that does POCSAG, FLEX, ACARS etc ?
Is there a program that does the format and protocol info needed to view the 5 or 7-Day Weather Forecast data that is provided by AccuWeather(dot)com ?
Question #4 : Does anyone know if these consumer weather display devices have say CAP CODES and thus are addressable to authorize their service ?
Note: There were NO MONTHLY FEES but certainly license fees were paid by the likes of Brookstone, Sharper Image, Radio Shack, Bushnell & Ambient.
Further I have 2 Radio Shack Cat # 63-1085 5-Day Weather Forecaster that both quit updating approx Feb 2018 but do show Ambient signal at startup.
Presently my Brookstone (no model # on unit, powered by Ambient) 5-Day Weather Forecaster is still going strong and shows 3 signal bars in SATX.
Bushnell has a trade-in program to send in your Bushnell FX unit and they will send you a La Crosse Wireless Color Weather Station model C85845v3.
Unfortunately, these LaCrosse devices try to best-guess the WX based on a pre-programmed barometric model vs the accurate AccuWeather
LaCrosse does make a $165 MSRP model C83100 Color Wi-Fi Weather Station with 7-day AccuWeather forecasts but not at a glance - req button presses.
<p>Our new Remote Monitoring Weather Station features wind, rain, indoor and outdoor temperature and humidity data, daily high and low temperature records, dynamic forecast icons, and a new Wi-Fi connected option, which will allow you to see all of your s
www.lacrossetechnology.com
Bottom Line: For a simple Glanceable device that needs no WIFI or outdoor sensors these old forecasters were fantastic and accurate thanks to the vast nationwide weather forecasting network of Accuweather (dot) com
Note: You never know who knows what until you simply ask - This forum seemed the best place to post and hopefully learn from others knowledge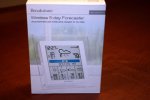 Last edited: