One thing left to adjust is receiver gain. How high can I run the gain setting without creating other problems?
It sounds like you are getting intermittent audio. I have noticed on my setup that having the dongle frequency correction correct is critical for good audio.
Have you played with the Warp setting on the Info tab for each receiver? The goal is to set the Warp so that the Window value is as close to Zero as possible.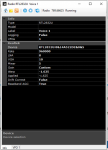 My Warp is set to -1.625 which results in a window value of close to zero on the VFO 1 tab. In this screen shot it happens to be at 1. The value of Window will vary as the radio receives the signal, the goal is to get the value to float as close to Zero as possible.
Good luck.