Joined

Jun 7, 2006
Messages

1,050
Location
I'm sitting here bored so I figured I'd share a pic of what I use while I'm at home. I don't have a really elaborate setup as some do here. Reason being is I'm on the go a good bit so most of my equipment is if the portable nature. If anything I have is an "elaborate" setup it's what is in my vehicle which can be viewed in it's own thread. Just search for it.
Anyway, back to the original topic. I've always preferred portables to mobiles just for the simple fact that if I need a radio I want something I can take with me and not be "confined" to my vehicle. Here's a list of what's pictured ( Left to Right ):
-- Motorola Minitor II SV ( VHF Hi ) in an amplified charger. This was my personal pager I bought for the fire department in 1998. I had to change the housing on it once because of a broken belt clip. The label on the new housing says Director 2 SV but it is in fact a Minitor as evidenced by looking at the top of the pager. The new housing has been on the pager since 2002 and it still looks brand new. That's because I never carried it after that. After I got my first 800 portable I used it and my Nextel for alphanumeric paging & texting, using the Minitor for waking me up at night. It is set to 154.2500 MHz and is used to monitor Rowan County Fire Dispatch, however I did remove the tone reeds since I didn't need it to activate anymore.
-- Motorola Minitor 5 ( VHF Hi ) with drop in cradle. Originally a 1 channel pager it has been "upgraded"
to a 2 channel pager. It is programmed for our severe weather warning/alert & announcement paging tones only on both channels. Switches as follows: *SW-A (Selective Call on F1 Tone Only) 154.2500 Rowan County Fire - Group Call for severe weather or other announcements as deemed appropriate.
*SW-B ( Tone & Vibrate for F1 ).
*SW-C ( Monitor on F2 Tone & Vibrate) 155.7150 Rowan County EMS/Rescue - Group Call for severe weather or other announcements as deemed appropriate.
*SW-D (Probability Scan for F1 & F2 Tone Only)
-- Motorola JT1000 ( VHF-Hi ) - Main use is with callout with the Red Cross. This way I have access to change freq's on the go when using a computer isn't available or practical.
-- Motorola MTS2000 ( 800 ) - Used as conventional only strictly for the 8CALL freq's/channels in the NIFOG manual.
-- EF Johnson 5100 ( VHF-Hi P25 ) - Main VHF portable that I use everyday. In addition to it being P25 capable which is a have to these days it will do FPP as well.
-- Uniden BCD396XT and Uniden BC346XT - The 396 is used daily to monitor our local P25 system , as well as the surrounding P25 and digital systems. The 346 is used to monitor conventional VHF & UHF stuff, testing, and aircraft monitoring. *** Side note - The 396XT is in the black housing and the 346 is in the silver housing. I swapped the housings because I like the subdued color of the black housing better than the silver. It doesn't show scuffs or scratches nearly as much as that silver one.
**Not Pictured is my Kenwood TK-380 "Model 2". I use it for several different things. It resides in my vehicle most of the time and I didn't feel like walking out to get it LOL.
Hope I didn't ramble on to much but I like to explain in as much detail as I can what's pictured to save a lot a questions. But if you have any please don't hesitate to ask. Thanks for looking !!!!!
***EDIT*** I forgot about the Baofeng on top of the Minitor 2 amplified charger....... It's a dual 2M/440 that I bought just to mess around with. For a little better than $30 I couldn't pass it up. Again nothing special, just something to play around with.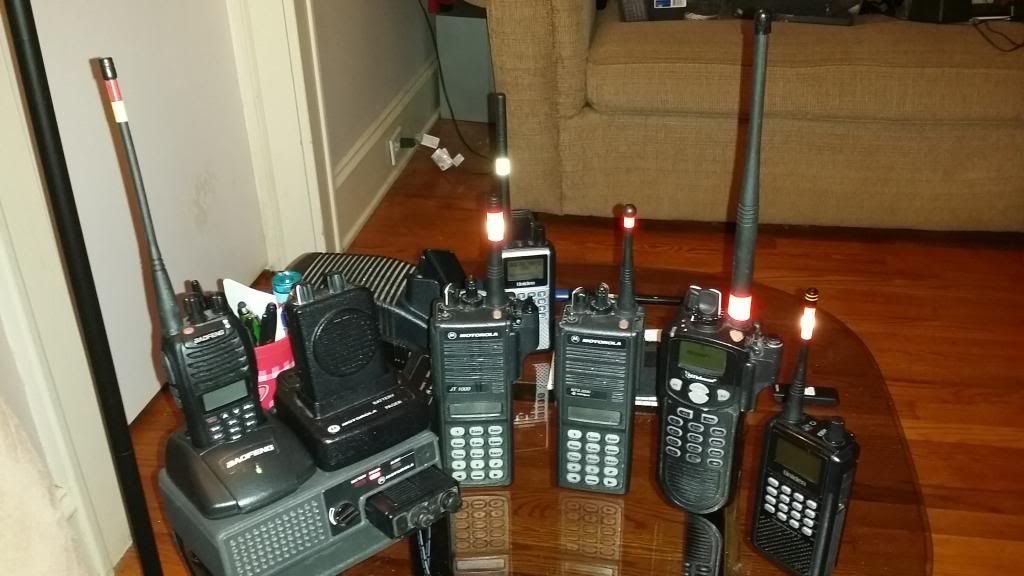 Last edited: