Joined

Jul 27, 2020
Messages

407
I have a single Discone Antenna that receives 25-1300 MHz, mounted in the attic, and that setup has always received well as a scanner antenna for both analog and P25 signals.
I now have two scanners, a Uniden SDS200, and an Uniden BCD536HP, but just one RG8U mini foam coax cable running down to the shack in the basement, about 60 feet distance from the Discone antenna in the attic.
I'm running both scanners off of the one Discone antenna now by utilizing a splitter and the appropriate connectors to adapt the PL-259 on the end of the RG-8U mini foam coax that terminates in the shack from the antenna in the attic, for connection to the input side of the splitter, which has an F connector input on it.
I use an F connector to SO-239 connector adapter on the input side in order to connect the splitter to the coax run from the Discone attic antenna, and two F connectors that connect to each output side of the splitter. I 'm using about a one foot section of RG-6 cable as a jumper from the output F connectors on the splitter to PL-259s on the other end of the RG-6 cable, and they plug into each respective scanner, thereby permitting me to use one antenna for both scanners. I'm using a barrel connector to convert the PL-259s to BNC, for connection at the scanner inputs.
Some of these connectors I had in my stash, and there are probably better combos to reduce the number of connectors to adapt to what you need to adapt the splitter, and varying cables to the scanners, etc...
F Connector to SO-239, F Connector to PL-259, PL-259 Barrel Connector, and PL-259 to BNC connector.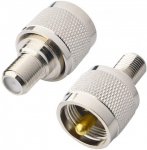 I realize the impedance differs with respect to the RG-8U versus the one foot long RG-6U jumpers between the scanners and the splitter. I also realize that the splitter must also introduce some degree of signal loss with this arrangement, and every time you use an adapter, there are theoretical losses involved. But, I don't notice any signal degradation that is discernible to the human ear with this setup.
Does anyone know if I am theoretically incurring losses with this setup, and if so, about how much would you estimate it might be? Just curious about this setup, as it seems to work as well as if I had the scanners each plugged into dedicated antennas for each scanner.
If the losses aren't anticipated to be too excessive, if at all, it would be significantly easier and cheaper to use this setup, only one antenna, rather than having to purchase dedicated antennas for each scanner. There may even be splitters available with multiple inputs and outputs to run multiple scanners off of just one antenna, if the losses don't noticeably impede receive performance.
Last edited: