Joined

Jun 30, 2006
Messages

14,701
I was needing a couple of 20ft pushup masts for a project and I see they are in the $80+ range plus ridiculous shipping charges or eBay has some for $190 shipped. That's stupid expensive for what it is. I did a little shopping at Home Depot and found EMT conduit sizes don't overlap very well leaving too much play between sections but a 10 1/2ft 1 3/8" fence top rail fits nicely into a 10ft 1 1/4"EMT conduit with about the same amount of play as an actual 20ft pushup mast.
I also found a guy on eBay that sells the same clamp used on Rohn pushup masts and the 1.5" version fits the 1 1/4" EMT perfectly. One end of the fence top rail has a short section where its tapered down to a smaller size and I was just going to cut that off but I found if you put that pointing down it doesn't hurt anything and it allows the small dia mast to sit up out of the large dia mast by about 6" preventing it from dropping too low and getting lost.
It took me about 1 minute to drill a hole for the mast clamp and slide the sections together and now I have a couple of new 20ft pushup masts. Total cost for the fence top rail, EMT conduit and mast clamp was $60.16 which is not all that cheap but there is no expensive shipping, only a little on the mast clamp. One thing the real pushup mast does that this one does not is prevent the top section from coming out of the bottom section if you run it up too far, but that has a complicated to make rolled end on the outer mast and bulge on the lower inner mast. I will just paint a stripe 12" up from the bottom of the inside mast and watch for that as I extend the mast.
Here are pictures of the raw components, the clamp and the finished mast. The last picture showing the bottom of the mast looks like there is too much space between sections but its just the short tapered inside section.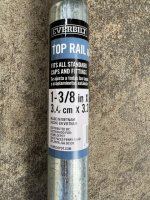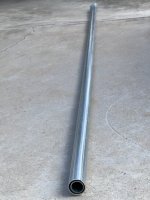 Last edited: