Wanted to make a general post of my scanner setup so far, as well as a few things I've found and some questions since I've started scanning (questions at the bottom). Most of it is just how I have it set up, why it's that way, and see if there's anything I can learn or do differently if there's feedback.
Hardware/Software:
Larsen NMO150/450/758 trunk-mounted antenna. RG85U to the passenger side, which plugs into an SDS-100. The SDS-100 goes to a Panasonic CF-19 Laptop which runs ProScan software and logs channels/tone outs/etc and is how I mainly keep track of information and record things, I'm aware of a few other methods I looked into, but I personally prefer this way of logging the data. I use Sentinel Software as well of course for the main programming/setup of changing attributes of the frequencies/database imports, display UI, however, I prefer ProScan for editing my favorites list, visual, audio tones, details, etc.
Audio:
The SDS is also connected to a side-mounted Bearcat BC23A amplified external speaker. The reason I chose this speaker was because I heard pretty decent things about it via this forum as well as I found a few posts regarding the
automatic off function
, and the
dB gain on the speaker
. I looked into it and wondered if someone could do both modifications together. Found a company called
NightFire Electronics, LLC, Ocala, FL
, which agreed to apply both modifications to the radio as I don't have any experience soldering and there's not a single company in my town that wanted to take on a "modification" project even though it was extremely simple, guessing it's because of liability. Anyways huge thanks to them, that speaker is now running in my car with the modifications applied from said posts, so if anyone ever wondered if you could do both, it works. The audio of the speaker can be heard over general vehicle noise, including phone calls, music through car speakers, etc. It is very,
very
loud. The speaker itself is at full volume so I can control it from the SDS-100 knob, and often times, it's so loud that I usually keep it at 10 or so, (SDS goes to 15). Very happy with it.
Area:
As for what I'm actually scanning, I've done research into what's around me in conjunction with a radius finder, (Okaloosa, Florida) which I made an overlay for on a map of my general area to better see what is realistically in my range (circle of 50 miles). More realistically of course, 20-30 miles on average, 50 being the max. Then just looked across RR and the main database to see what was within said area.
So using that, I have 3 systems that I scan, about 90 freqs total. I have a 5s hold and 0ms digital waiting time for each system, with further 5s holds on all channels. The reason for that is I was told that high delays and low wait would make sure that I wouldn't miss transmissions and things wouldn't get clipped at the start. I perceived it to be a "sweet spot" sorta. And 5s channel holds because I've noticed that's typically how long it takes for replies during "situations". Usually if no one responds to the last message after that, no one responds at all until the next "situation". Open to feedback of course.
Not gonna list all of them cause it's like over 90 frequencies and various departments, (unless people want me to in which case I'll DM), but some of the sources for how I've gone about compiling my frequencies for the Okaloosa county area are as follows:
UI:
The 2 black boxes are graph displays for RSSI and light up in green, but I've been told that it's better to focus on noise anyways. Still not quite sure as to what a "normal" noise level is for most radios. REC indicators pop up on the red line and CTSS is displayed in the top right when applicable. Lower Batt/Noise are colored in white, it just doesn't show here. Reasons for the display are 1. I find it visually pleasing especially because most of my time scanning (mobile setup), is spent at night, either parked or driving, also I have ADHD and the way I set it up helps me focus better on important things when I am looking. And 2, I've arranged it based on things I personally want to see, such as the TGID/Freq/Vol/SQL/CTSS/RSSI/Noise, etc.
Filters:
One thing which was pretty big for me was changing the filter settings I had For the SDS I had the global auto filter on "Normal", and I saw a recommendation on a post saying to change them and see what works, (there are so many RR posts about the SDS filters alone), and "Wide Normal" worked better than "Normal". But, this might sound weird, turning Global filters to "Off" gave me the most noticeable improvement in reception and quality of the signal. Signals weren't getting clipped or dropped as much after I changed the filter settings. I've been playing with them still and watching the noise level/RSSI to try and see what is/isn't working. But changing them 100% had a noticeable effect. "Off" is my current go-to setting. With Wide-Normal being 2nd best. I think my next plan is to leave them globally off, and go through frequencies to apply filters individually and monitor the results.
My primary focus after getting it all set up and channels sorted, has been trying to better understand the areas said signals are coming from, learning where the repeaters are located, as well as monitoring noise/RSSI levels, just generally watching the signal strength.
The only questions I can think of are,
1.
Besides antenna placement, and coax, do people ever use signal amplifiers? I think I read somewhere that they don't really work too efficiently with the SDS series. I feel like they would just increase the noise along with the signal in some cases?
2.
After scanning for a bit so I can take a look at what I have around me and say "Ok this is what I'll be scanning". I can safely say that out of the 100 or so frequencies I scan, the public safety sections operate at, (lowest - highest), 453 - 468 | Air Traffic at 121 - 390. | HAM operations at 144 - 444). So safe to say, if I understand correctly, that most of what I'm scanning is known as the 2m and 70cm bands, which, if I understand correctly, is also known as strictly VHF/UHF. So basically, the red area is what I'm primarily scanning?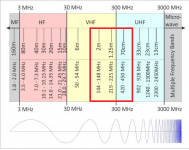 And for reference, the signals I get, I can hear what's being said, and it doesn't seem like the noise is unusual for it being a radio and all. Across all channels, the RSSI is pretty much a fluctuation between -90 and -120 at worst. A lot of the -120 hits are from faraway repeaters or Air Traffic. Anything -60 to -90 is typically local dispatch, like I-can-drive-to-their-front-door-in-1-minute distance. Or Ham repeaters. The only thing is that sometimes, the transmissions are cut a bit regardless of the RSSI. I'm not sure how else to explain it.
So normal transmission, low noise, good signal/quality:
The transmissions in question sometimes come across like this:
That's probably putting it generously, it's way more broken up usually.
So all that to say,
3.
currently I have a Triple Band Mobile Antenna, the Larsen of course. And I was told that since the NMO mount is already applied, the actual antennas (compatible ones) could be switched in and out. So I'm wondering, if I were to focus instead on a dual band, high gain, perhaps lengthier, etc. Would this make a noticeable impact on consistency/quality of the signals of which I'm currently scanning? I'm wondering how big a difference height actually makes just between different antenna. But then I guess you have to play compromise with length versus looking incredibly impractical. Or maybe performance/looks.
I should add, since I changed the filter settings, consistency and clarity immediately noticeably increased, less breaks in transmissions. Over the course of another week or so, I'll probably have a better idea of my consistent noise levels in reference to RSSI as well as effects of everything including those 2 factors from the new filter settings, and I still need to learn about a few settings that I know are useful and I should probably be using like Discovery/Analyze but don't fully understand yet.
Overall, extremely happy with the setup and I'm having a ton of fun. Everyone has pretty much answered any questions I had previously and anything else I was able to find here across the forums especially where the SDS itself was concerned. But I'd still like to ask the question about different antennas. Mainly as well just a general inquiry on lowering noise level and improving consistency/reception. Just like, what can I further do to make it the best it could be in my specific use case, money and time not being a factor/issue.
Last edited: