Joined

Dec 14, 2001
Messages

4,576
Location
I have pared down my shack to the radios I actually use regularly. I found I hadn't touched a bunch of radios in a long while and decided to cut back to the most used ones. I took out a half dozen scanners, mostly PRO2096's or analog GRE's. I tend to prefer the Uniden models, and rarely use the GRE's except for Pro96Com.
I have a pair of 12VDC power supplies, one is a big-honking Astron 50 amp model used for the transceivers. The other is a smaller Motorola 20 amp model (behind the monitor) that powers the scanners and accessories. This tends to keep the heating effect more manageable. Each power supply is connected to a RigRunner 4012 PowerPoles strip for power distribution. (These are out of view)
There are 3 main scanner antennas. 2 are the RadioShack version of the ScanTenna, each go to a Stridsberg 8-port active multicoupler. These feed most of the scanners except the 996 and GRE's. These radios are fed by an 800 MHz. vertical going to a 4-port MCA804 800 MHz. multicoupler. The transceivers and R8500 have individual antennas. The IC7000 is connected to a Delta-4 coax switch connected to a variety of antennas, including a couple dipoles, a Slinky and a 4-Band Diamond vertical.
All antennas are in the attic, I live in an HOA so external antennas are not permitted. In the corner behind the desk is a wooden wire chase from the attic to hide the coax.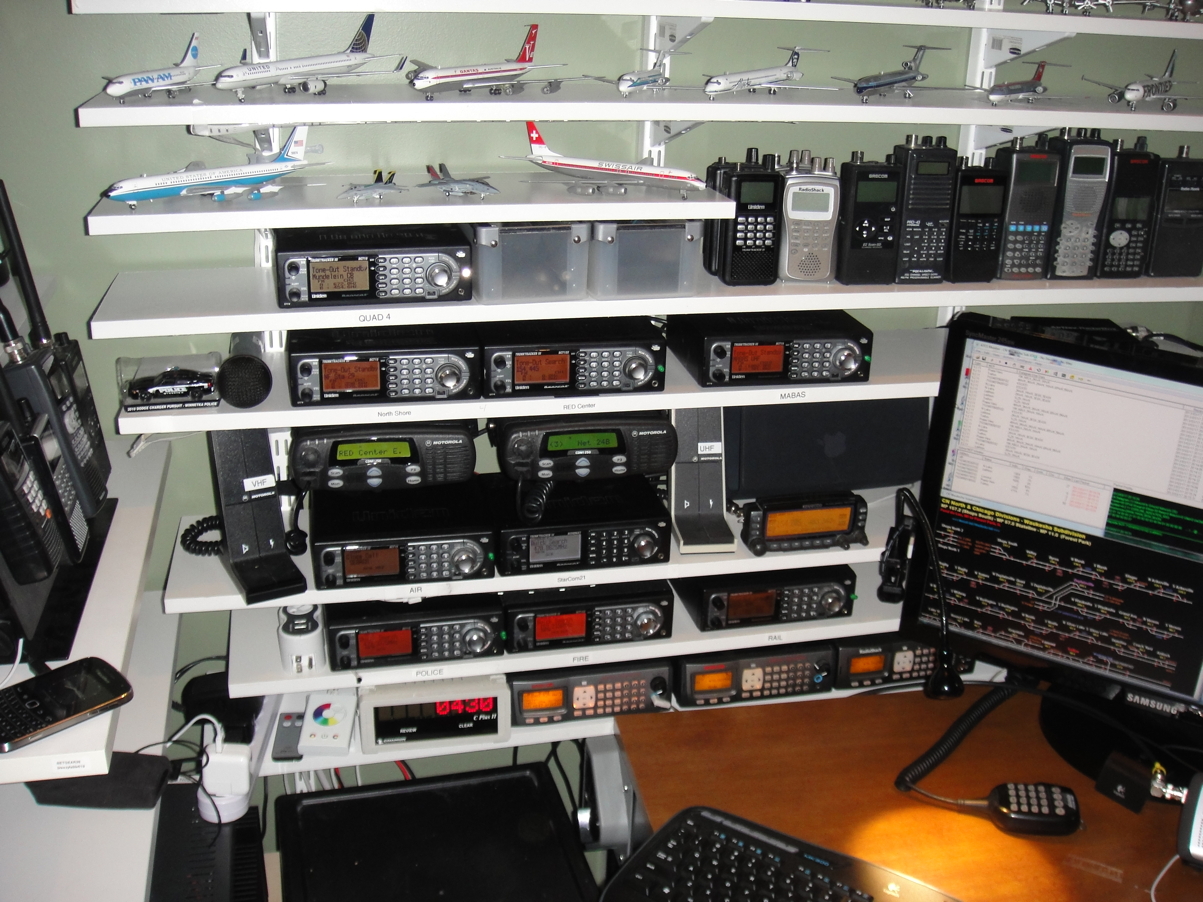 The radio shelves are Elfa from the Container Store. These, by nature of the vertical mounting rails, have a natural space between the shelf and wall just right for wires.
I have some LED strip lighting but it really doesn't do anything but look cool at night.
A few hints I have learned from shack building over the years is that while short cables for power and antennas are easier to keep neat and tidy, they restrict the ability to pull a radio out for work or rearrangement.
Each of the 3 Multicouplers have been assigned a color and jumpers from that multicoupler have small wire-ties to match. This allows me to tell at a glance which antenna-multicoupler is on what radio in case of issues.
Invariably there are a few wall-warts left. A few radios or devices use something other than 12 VDC so these are accommodated. Other than the Wouxon each of the HT's use a different voltage and has an individual charger wall wart. In addition the HP1 and MDC decoder use 6 and 5 volts respectively. The computer equipment has several but these are on a separate system thru a UPS that also has space for not-battery surge suppression.
My HH scanners all use AA batteries these days and I have given up on trying to maintain rechargables. I get DuraCells or whatever from Walgreens, CostCo or Sam's Club when they are on sale and keep a bunch handy in the car, home and work. They are cheap and a lot more convenient than trying to remember to keep them charged.
The antennas and battery packs for the HH scanners are in the small plastic tubs tucked in to the right of the top most BCT15. When I need a HH I grab an antenna and battery and off I go.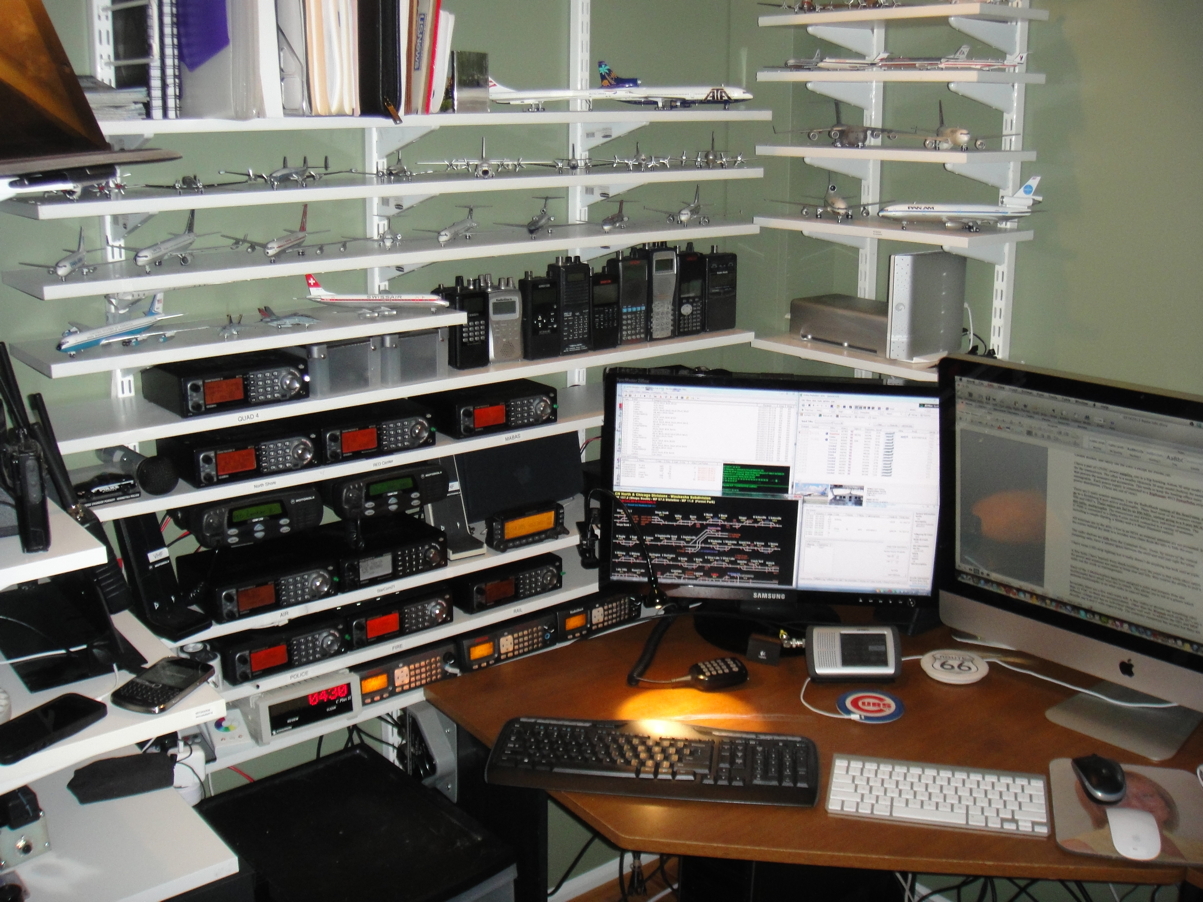 I invariably get asked several questions. Well, here goes:
Why so many radios?
I have radios dedicated to a single task for the most part. Some radios are set up for data decoding so I really don't listen to them at all, the computer does. The Fire Tone Out radios sit on a single channel and stay silent until a call goes out (Thanks Uniden for this!) These replaced my fleet of Plectrons. Others are set up on a set of rail, aircraft, police or fire channels. When that part of me wants to listen in I just diddle the volume to match my mood.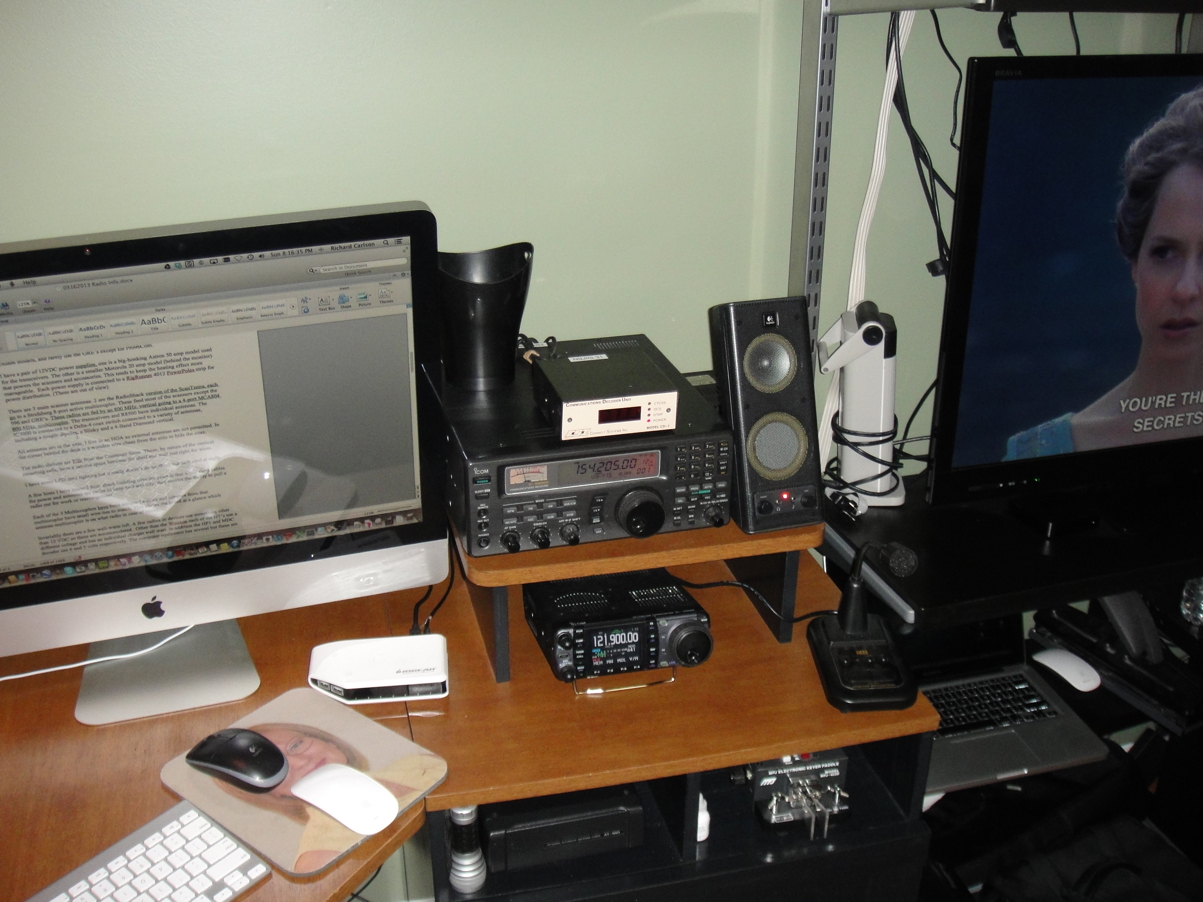 How do I manage to listen to all at once?
This is from years as a dispatcher, firefighter and police officer. I adjust the volume to prioritize the radios I want but can actively monitor several at a time.
What about the wife?
That's the best part. She is deaf and therefore is not bothered by the radios, even when she is asleep. I can have them on as loud as I want and she could care less. What does get her goat sometimes is flashing lights since this is how she alerts to things like the videophone, doorbell etc. I had to relocate the AirNav box behind the monitor since the LED's are particularly bright and obnoxiously flashing.
How can you afford all this?
First, I have a good job. Second I have a deal with the wife; I get a certain amount of radio money depending on bills etc. Anything I make by writing assignments or other radio work also goes into this pot. Otherwise she has the right of refusal on major purchases, but she is more than reasonable about it. She has some expensive hobbies herself... We are lucky that we are able to do and buy the things we like but I make sure we get our money's worth.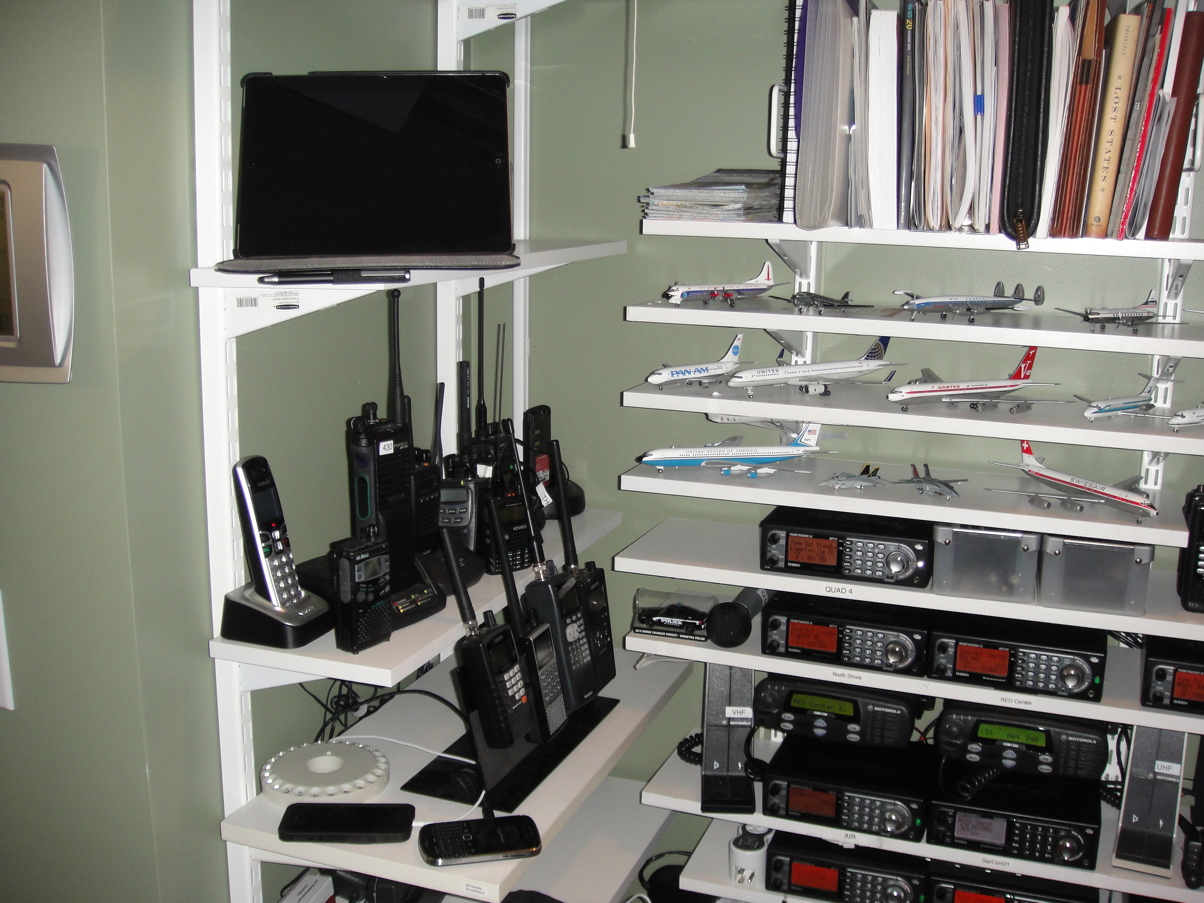 Here is the list of stuff:
Icom R8500 W/ CD-1 Decoder
Icom IC-7000 HF/V/U W/AT180 tuner
6 Uniden BCT15
2 Uniden BCT15X
1 Uniden BCD996XT
2 GRE PSR600
1 RS PRO197
Cimarron MDC Decoder
Motorola CDM1250 VHF
Motorola CDM1250 UHF
Kenwood D700A
Uniden HP-1
MaxTrac (ATCS) (Hidden)
AirNav Radar Box (Hidden)
HH's:
Motorola APX7000
Kenwood TK-3140
Alinco DJ-C7
Yaesu VX-8
Wouxun KG-UV3D
Motorola HT1550XLS
Alinco DJ-S11
Kenwood TH-F6A
HH Scanners:
Uniden BC125AT
Uniden BCD396XT
Uniden BCT346
Uniden BC330
RS PRO106
RS PRO83 x2
RS PRO43
RS PRO96
RS Freq Counter
GRE PSR800
GRE PSR700
GRE PSR120
GRE PSR300
GRE PSR310
An Astron RS-50A powers the 4 transceivers.
A Motorola 20 amp supply (behind monitor) powers scanners and accessories.
A few items using other than 12 VDC use wall-warts, otherwise all are powered from the 2 DC supplies.
The iMac is my everyday computer for web development, email, communications and web browsing. Above the second monitor is a 4TB RAID and a backup HDD.
Below the desk is an HP computer (i7 3 GHz, 9 GB RAM, Win7P) The left monitor can be used with this or as a second monitor on the iMac (useful when working on web pages!).
The Windows machine is used primarily for running a local receiver/server for ATCS as well as my AirNav RadarBox. I also run a couple copies of PRO96Com on the local P25 systems. I also have ARC products for radio programming.
The MacBook Pro runs any of these applications when I am on the road.
The 4 BCT15's on the top rows are dedicated to local fire channels for toneouts.
The CDM's are used for local ham, GMRS and my work channels.
The 3<sup>rd</sup> row BCT15 is used for Aircraft, the 996 for the local P25 system.
The 4<sup>th</sup> row BC15's are used for local Police, Fire and Rail operations
The bottom row PSR600's/PRO197 are used for Pro96Com data.
I don't often use handhelds, many were bought on whims at the time or were from a writing assignment. I use the 396XT most of all when on the go, with the 346 living in my camera bag. The PRO83 has a discriminator tap for the occasional remote decoding application. Most of my handheld use is for railfanning or planewatching or CloseCalling at the mall.
Out in my van I have a batch of radios as well, including an Icom IC7000, Alinco DR-635, a pair of BCD996XT's and a pair of BCT15X's. All 4 scanners and the two 2-ways use remote heads, the radios are mounted in the cargo area.