Member
Premium Subscriber
Joined

Jan 17, 2008
Messages

644
Location
With some help from a few people to get me past a couple of walls I ran into, I was able to figure out how to use a CDM as a station alarm for when the tones go off.
This radio was pulled out of our ambulance because it stopped making PL tones on transmit, but it decodes PL fine and receive sensitivity is within spec.
Because this radio is RX only, I saw no need for anything fancier than a scanner antenna.
I used an 8A 12V power supply that I found on amazon for around $30, this is powering a CDM at idle and 2 feniex T3 LED lights, since this radio will never transmit, I figured more than that would be overkill, and more money for no reason.
This is the finished board with the system on it. You will notice connections on the terminal block for external speakers, and for the lights. Also was able to add a reset button
PROGRAMMING:
You need to have your accessory pins configured as follows:
Accessory configuration as follows:
note: you can set the external alarm duration to whatever you want (1-20 sec)
I set it to 20 because I am not using an external timer, so I wanted to have a decent amount of time with the flashing lights on.
Also have the radio set for ignition power, in the event of a power failure, the radio will turn back on automatically after it is switched to generator, or when the power comes back on (this is not powered through a UPS)
Quick Call 2:
I found that these worked best, the radio will alert once and stop beeping so that it wont beep over the dispatcher talking
conventional personality/signaling:
This is an RX only personality, and is the only personality in the radio. When the squelch is set to AND, it requires both carrier AND tones to open the radio. If that is set to OR, the radio will still alert for the tones, but it will remain open all the time, receiving every transmission.
This is my concept drawing of the whole system, you will see from the first picture that I used a terminal block and fuse block which are not shown in this drawing, but all connections are the same. Relay gets ground from pin 4 when the radio alerts, stays closed for 20 seconds, then opens when it times out.
for reset, I am using a momentary button which is mounted in a light switch fixture on the wall. A momentary ground to the EXT PTT (pin 3) will reset the radio once it has been opened, so that you dont have to listen to everything else up until your tones go off.
SPEAKERS/LEDs
These are Motorola speakers with a Feniex T3 LED grill light mounted to them. I used regular angled aluminum to make the L bracket because it was available locally and cost about the same for the whole piece as 1 feniex L bracket costs from the factory. Spraypainted it black after drilling the holes just to make it look nice.
As you can see, the speaker bracket has mounting holes on two sides, one side was used to attach the light, the other side will be used to attach to the wall.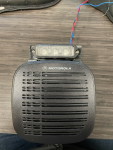 I bought a 50' roll of 18AWG 4 conductor speaker cable to run to the speakers, there will be two of them in different rooms of the headquarters building.