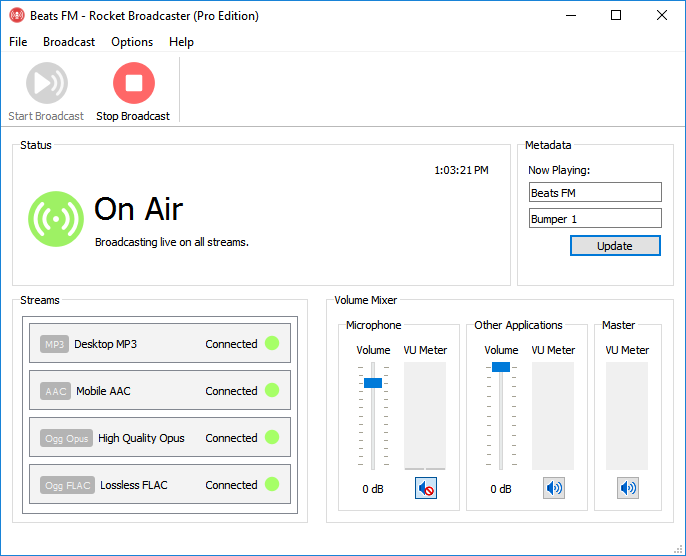 Hi guys,
I know some of you broadcast via Icecast and SHOUTcast servers, so I figured I'd drop a line here to let you all know about new internet radio broadcasting software I've just released:
Rocket Broadcaster
.
In a nutshell, it's like Edcast, BUTT, or SAM Broadcaster, but just focused on live broadcasting or feeding live audio to your radio station. My focus was making something more streamlined than the rest, so maybe some of its features might be useful to you:
It can record audio from any application, like Skype, Spotify, iTunes, etc. If you want to feed something like your SDR's audio into it, that's easy too. Just fire up SDR# and Rocket will capture it's audio. (No virtual audio cable required!)
It also records from your microphone or line-in.
Automatic metadata capture - it can capture metadata from another window and send that to your streaming server.
Encoders: It supports MP3, AAC, Ogg Vorbis, Ogg Opus, and lossless Ogg FLAC.
Protocols: Supports broadcasting to Icecast and SHOUTcast servers.
For the power users, there is a "Pro edition" that also supports multiple streams/encoders at once, SSL for Icecast, and the ability to choose which network adapter your streams run over. (This is handy if you have a backup internet connection - For example, you can have two streams running over two separate internet connections, so that if one internet connection goes down, the other keeps streaming seamlessly.)
Anyways, if anyone has any feedback or feature suggestions, it'd be greatly appreciated! I'm trying to make the free edition better than anything else out there, so your feedback means a lot to me.
Thanks,
Albert